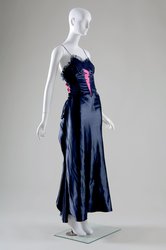 (Vocus) March 5, 2009
Sought out in the 1930s and '40s by the glamorous women of Hollywood and high society but largely unknown today, the American couturiere Muriel King (1900-1977) will be rediscovered in Muriel King: Artist of Fashion, on view at The Museum at FIT from March 10 through April 4, 2009.
This is the first exhibition dedicated exclusively to King, whose career spanned four decades, from the 1920s to the 1960s. The exhibition and accompanying brochure, organized, curated, and written by FIT graduate students in the Fashion and Textile Studies: History, Theory, Museum Practice program, will introduce Muriel King to the general public, provide new scholarship, highlight her legacy as an artist, and identify her place within American fashion history.
King was one of several women designers who dominated fashion in the 1930s. The influence of Parisian couturieres such as Gabrielle 'Coco' Chanel and Madeline Vionnet was pervasive, but in New York, King and her contemporaries such as Valentina, Elizabeth Hawes, and Clare Potter were becoming known as American style-makers.
Interestingly, Muriel King had no formal training as a fashion designer. She did not cut, drape, or sew. Rather, she created superb, fully-rendered watercolor sketches detailing the construction and look of her designs, which her tailors and sewing staff then worked from to construct her garments.
Muriel King: Artist of Fashion will showcase rare examples of Muriel King garments from the collection of The Museum at FIT as well as original sketches from the Special Collections of the Gladys Marcus Library at FIT. Among the sketches are her couture designs for prominent socialites such as Dorothy Schiff, Mrs. Junius S. Morgan, and Mrs. Cornelius Vanderbilt Whitney. Also on display are King's renderings of costume designs for Hollywood stars such as Rita Hayworth, Katharine Hepburn, and Ginger Rogers. Collectively, these garments and drawings will illustrate the variety of recurring elements in King's work, including her subtle sense of luxury, an emphasis on versatility, and her innovative construction techniques. Muriel King: Artist of Fashion will tell the story of King's career, emphasizing her significant contributions to American fashion.
Born in Bayview, Washington, in 1900, King aspired even as a young girl to be an artist. She moved east when she was 19 years old to study watercolor painting and theater design at the New York School of Fine and Applied Arts. In 1927, she went to Paris, where she sketched clothes for such publications as Vogue, Women's Wear Daily, and Femina. In the early 1930s, she started designing dresses for herself. Her friends asked for her assistance in planning their wardrobes and encouraged her to start her own line. In 1932, she opened her own New York couture salon and signed a licensing partnership with Lord & Taylor, the first department store to sell her ready-to-wear garments.
King's career flourished in the 1930s. Her fashions were particularly popular among socialites who could afford the high prices of her couture creations. They appreciated the sophistication and sensibility of a dress designed by Muriel King, who believed that "beauty, economy, and usefulness [are] the best rule[s] for the well dressed woman." King's emphasis on separates and day-into-evening looks created versatility and value amidst the troubled economic climate of the Great Depression, yet the quality of her clothing indulged her clients' lingering desire for luxury.
Her designs evoke a distinct interpretation of chic, best encapsulated in her motto of "cautious daring." She believed that you "put just one detail in a dress," and her clothing was lauded for its clean lines, elegant simplicity, and exquisite quality. King is remarkable for the unusual way she designed clothes. The sketches featured in the exhibition were an integral part of her "backwards" design process.
In 1935, King designed the costumes for Katharine Hepburn – whom she dressed both on-and off-screen – for the film Sylvia Scarlett. This was King's first feature film. In 1937, she designed for the film Stage Door, which also starred Hepburn, along with Ginger Rogers and Gail Patrick. King was among the short list of designers considered for Gone with the Wind, and author Margaret Mitchell's favorite, but ultimately did not win the job. Her design for an unrealized costume for the character Scarlett O'Hara is among the sketches in the show.
During the 1940s, King continued to design for Hollywood, while she simultaneously created ready-to-wear collections for a wide variety of department stores. She also created Flying Fortress Fashions for female factory workers at Boeing and other West Coast aerospace firms.
King retired from fashion in the late 1950s to return to her first love – painting.
FIT Masters of Arts in Fashion and Textile Studies: History, Theory, Museum Practice
FIT's graduate program leading to the Masters of Arts degree in Fashion and Textile Studies: History, Theory, Museum Practice, prepares students for professional curatorial, conservation, education, and other scholarly careers that focus on historic clothing, accessories, and textiles. The program offers a hands-on approach to the study of fiber-based objects through a close association with The Museum at FIT.
The Museum at FIT
The Museum at FIT is the only museum in New York City dedicated solely to the art of fashion. Best known for its innovative and award-winning exhibitions, which have been described by Roberta Smith in The New York Times as "ravishing," the museum has a collection of more than 50,000 garments and accessories dating from the 18th century to the present. Like other fashion museums, such as the Musée de la Mode, the Mode Museum, and the Museo de la Moda, The Museum at FIT collects, conserves, documents, exhibits, and interprets fashion. The museum's mission is to advance knowledge of fashion through exhibitions, publications, and public programs. Visit http://www.fitnyc.edu/museum.
The museum is part of the Fashion Institute of Technology (FIT), a college of art and design, business and technology educating more than 10,000 students annually. FIT, a college of the State University of New York (SUNY), offers more than 44 majors leading to the AAS, BFA, BS, MA, and MPS degrees. Visit http://www.fitnyc.edu.
Museum Hours
Tuesday - Friday – noon-8:00 pm
Saturday – 10:00 am-5:00 pm
Closed Sunday, Monday, and legal holidays
Admission is free.
Photos by Irving Solero, courtesy The Museum at FIT
###