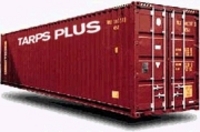 Poly tarps are not the only type of tarps we need right now. This community needs tarp help.
Palmdale, CA (PRWEB) March 12, 2009
The leading tarps manufacturer and distributor Tarps Plus has scaled up major polyethylene production due to the annual hurricane forecast that was released in early 2009 by Colorado State University forecasters Philip Klotzback and William Gray. The CSU report predicted that three of the season's seven hurricanes will develop into intense or major storms, meaning Category 3 or higher on the Saffir-Simpson scale. Category 3 storms have sustained winds of at least 111 mph.
The 2008 hurricane season in Louisiana and Texas has left many tarps on homes without permanent roofing nearly year after the hurricanes destroyed them. According to Rick Allerton of Houston TX. "Poly tarps are not the only type of tarps we need right now. This community needs tarp help." Re: Troubled Asset Relief Program. Many home owners cannot afford to re-roof their home and are stuck with keeping tarps on the top of their home due to financial reasons.
Fema and the USACE along with tarps plus are stock piling a major supply of hurricane tarps due to the needs of 2008 hurricane victims as well as the possibility of the 2009 hurricane forecast. Tarps plus has worked with Fema and the USACE and been the worldwide distributor of tarps since the late 1950s. In the 2004 and 2005 hurricane season Tarps plus shipped over 70 shipping containers to the U.S. Army Core of Engineers USACE and FEMA Federal Emergency Management Agency. Over 1 million poly tarps were supplied by Tarps Plus as well as other goods that were donated by the company. Hurricanes Charley, Katrina, Frances, Ivan, Jean and many others over the past several years were supplied heavily by Tarps Plus.
Tarps Plus is a division of Abadak Outdoors a leader in disaster preparedness and hurricane supplies.
The large supply of polyethylene coverings will also be for other natural disaster that may occur such as tornadoes or floods.
###