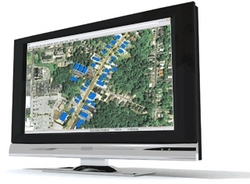 We're seeing many telecoms who are now providing hosted services, such as dispatch, network management and security, as another means to boost their revenue potential
Richmond, VA (Vocus) March 6, 2009
Mapcom Systems, a leading provider of Geographical Operations Management (GOS) software, announced today the official launch of M4 GPS Suite, the newest component in its line of M4 Solutions software. First introduced in late-January, the M4 GPS Suite is now available throughout the telecommunications industry and enables providers to offer hosted services based on geographical visualization technology.
Mapcom's M4 GPS Suite was developed as a geographical, map-based platform from which telecommunications providers could easily offer hosted services to their residential and business customers. Current offerings include tools for providing fleet and workforce management, network and infrastructure management and building/campus security services. Hosted by the provider in order to achieve greater economies of scale, the tools enable local businesses and individuals to manage their own operations and assets with the same best of breed solution used by their local telco.
"We're seeing many telecoms who are now providing hosted services, such as dispatch, network management and security, as another means to boost their revenue potential," explained John Granger, CEO of Mapcom Systems. "This latest development in the M4 Solutions product line marks our commitment to stay ahead of the technology curve and offer our clients the best operational solutions."
The M4 GPS Suite won first place when it was introduced at the "Innovations Showcase," held in conjunction with the Organization for the Promotion and Advancement of Small Telecommunications Companies (OPASTCO) Winter Convention in Kauai, Hawaii. Most recently, it was awarded in the "Hot Technology" category at the National Telecommunications Cooperative Association (NTCA) Annual Conference held in Long Beach, CA. Judging was based on the level of innovation, usefulness, significance of improvement and relevance in the rural marketplace.
About Mapcom Systems
Mapcom Systems is the developer of M4 Solutions – a map-based Geographical Operations System (GOS) software suite that allows telecommunications providers to enhance their information flow by displaying data in a geographic view. The open-system approach enables users to integrate and correlate data from existing billing, accounting, GPS tracking and network monitoring applications with a geographically-correct land base map of all network elements in M4. Since 1971, Mapcom has developed one of the strongest reputations in the industry working with independents, cooperatives, fiber communities, and campus telecommunications providers of all sizes across North America and the Caribbean. For more information, visit the Mapcom website at http://www.mapcom.com.
###