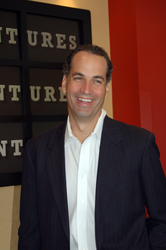 By recruiting star talent, building high-volume and unique marketing channels, and leveraging technology to provide real-time tracking, we've been able to dominate online sales generation in every vertical we enter
Charlotte, North Carolina (PRWEB) March 6, 2009
Red Ventures, a high-growth provider of online customer acquisition services, has been invited to present to an audience of leading technology and investment executives at the 2009 Montgomery Technology Conference.
CEO and co-founder Ric Elias will present Red Ventures' unique business model and formula for success. Despite a deep economic recession, the company has continued to grow rapidly and hire new online marketing and technology staff. The firm applies online marketing and sales generation capabilities to acquire new customers for leading brands in verticals ranging from home and business services to automotive and financial services.
"By recruiting star talent, building high-volume and unique marketing channels, and leveraging technology to provide real-time tracking, we've been able to dominate online sales generation in every vertical we enter," said Elias. "As a company, we've reached not only critical mass, but critical depth. New businesses, whether organically grown or acquired, are able to leverage our existing platform to generate immediate results, creating a multiplier effect on new opportunities."
The Montgomery Technology Conference will be held March 10-11 in Santa Monica, CA. The invitation-only audience consists of more than 750 senior-level private equity, venture capital and public institutional investors, as well as technology industry executives. The conference will feature presentations from some of the top privately-held and public technology companies as well as panel discussions led by speakers from well-known investment firms and publications.
Red Ventures was recently named the 17th fastest growing private firm in the U.S. by Inc. magazine in its 2008 Inc. 500 rankings. It was second among marketing companies on the list. It was also ranked one of the three best large companies to work for in Charlotte, according to the Charlotte Business Journal. And the North Carolina Technology Association named Red Ventures Growth Company of the Year in 2008.
Because of growth, the company is currently hiring for more than 30 open positions in online marketing, PHP web development, sales, and general management/business leadership.
About Red Ventures
Red Ventures is an online marketing company that develops and manages large-scale, multi-channel customer acquisition programs for leading brands in the U.S., Canada and Puerto Rico. Over 500 employees serve vertical markets including home services, consumer services, financial services, business services, and automotive. The company is based in Charlotte, North Carolina and was founded in 2000. For inquiries about online marketing jobs and other career opportunities, visit the company's website.
###