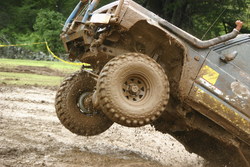 The first thing to do is to check that your insurer is OK with modifications
(Vocus) March 6, 2009
Modifying 4x4s has seen a big increase in recent years, especially as green-laning becomes more popular. But there are several concerns and misconceptions about off-roader modifications, notably when it comes to how they will affect insurance. Adrian Flux Insurance Services, which has a division dealing in four wheel drive motoring and specialist schemes for modified vehicles, offers advice on how insurers view modifying a 4x4.
"The first thing to do is to check that your insurer is OK with modifications," says Gerry Bucke of Flux. "Many mainstream companies won't cover a modified vehicle of any sort, but there are plenty of specialists who will.
"Obviously, any mods must be safe – and that's the responsibility of the policyholder. We recommend anyone fitting their own modifications gets them double-checked by a professional, just to be sure."
Flux splits off-roader modifications into three broad groups:
One is the luxury end of the market, which mainly covers cosmetic mods – leather interiors, DVD screens, fancy wheels and so on. These kinds of modifications won't usually affect the cost of insurance too greatly, unless they seriously increase the value of the vehicle.
Next are LPG conversions, which Flux treats as a category on their own. The reason for this is historic: at one time it was difficult to insure them and Flux developed a specific LPG scheme. They are increasingly popular, especially for big-engined models, and, provided they are professionally installed, should not affect insurance costs at all.
The third category involves off-roading and green-laning modifications. This is the area that has seen the biggest growth in recent years. The most popular mods on Flux's books include wheels and tyres, raised suspension, under-body protection and snorkels, which have really taken off.
Gerry Bucke comments: "Enthusiasts who are into green-laning should double check that their insurance policy covers it. But as far as the mods are concerned, unless they make a significant impact on the vehicle's value or performance, then the insurance shouldn't be affected much, if at all.
"Fitting a bigger engine or modifying the performance in any other way may affect insurance costs, depending on what performance gains are achieved. Specialists like Flux have schemes to cater for this and can offer very competitive rates."
With any modifications the two golden rules are:

Ensure they are done properly and safely
Tell your insurance company what you've done.
"It is essential that you tell your insurer about any modifications you do – otherwise you may find you are not covered in the event of a claim," says Gerry Bucke. "The good news is, provided the mods have been done properly and are road legal, they are unlikely to make a significant difference to your insurance costs."
Adrian Flux aims to offer cheaper car and 4x4 insurance and has a huge range of policies for the motoring enthusiast. For details contact the Adrian Flux quote line on 0800 505 3000, email the company at quotes(at)adrianflux.co.uk, or see the Flux homepage on http://www.adrianflux.co.uk
COPY ENDS
PRESS ENQUIRIES: 4x4 Modifications.doc– Mar-09
Toni Turner or Alison Haynes at The Publicity Works
Tel: 01263 761000
Gerry Bucke of Adrian Flux Insurance Services: 0800 505 3000
###