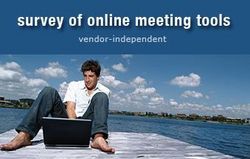 Frankfurt, Germany (PRWEB) March 9, 2009
webconferencing-test.com, the only vendor-independent portal focusing on web conferencing solutions for small and midsize organizations, has published test results for the latest versions of 22 online collaboration tools. Joining the candidates for the first time is Dimdim 4.5 Free. What's more, in light of the current economic crisis and the drive toward a carbon-neutral meeting culture, the portal now highlights the benefits of online conferencing in terms of time and cost savings.
New test candidate: Dimdim 4.5 Free
Free web conferencing certainly sounds appealing. And in practice, Dimdim 4.5 Free rates highly when it comes to compatibility with operating systems, and ease of use. But free software comes at a price, since users have to do without some key functionality. As a result, the solution is restricted to very specific scenarios. webconferencing-test.com looks at the tasks Dimdim is suited for - and examines its limitations.
Cost savings and a carbon-neutral meeting culture
In the current economic climate, many enterprises are wondering how they can cut costs. Webconferencing-test.com provides answers - showing how businesses can slash their travel budget without compromising innovativeness and flexibility. In addition, the portal explains how systematic use of web meeting solutions can contribute to corporate social responsibility programs.
The German version of the portal can be found at http://www.onlinemeeting.biz .
###