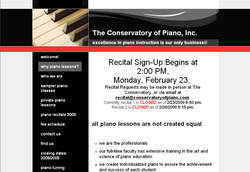 Excellence in piano instruction is our only business
Worthington, Ohio (PRWEB) March 10, 2009
The Conservatory of Piano believes that piano lessons can and should be fun and enjoyable, and attributes much of its growth over its 38 year history to the smiles on students' faces. The Conservatory of Piano has developed its own curriculum based on a completely child-centered approach to piano lessons and music making that ensures piano lessons are fun and success is attainable by everyone. This is achieved by the highly trained and dedicated faculty of full-time piano teachers for which The Conservatory is renowned.
"Excellence in piano instruction is our only business," states Eleanor I. Popper, Director of The Conservatory. "We believe in developing recreational pianists who will possess a musical skill and appreciation that will enrich their entire lives."
It has been proven that children who learn music from an early age have better memory and concentration in school, longer attention spans, and increased ability to see patterns in math, and have skills far superior to their peers with no music education. Piano lessons for children have been shown not only to improve academic and developmental skills, but also to boost social skills such as confidence, concentration, and discipline.
The Conservatory of Piano suggests that three years of age is ideal to begin piano lessons for children. It has proven through its unique teaching methods that children at this age are ready to accomplish set goals and can succeed at reading music long before reading words.
The Conservatory of Piano's Sampler program is offered frequently throughout the year. This unique introductory program consists of six weekly one-hour group piano classes and provides the opportunity for children to experience piano lessons in a fun and exciting atmosphere. Sampler for pre-school children ages 3 to 6 encourages social interaction while preparing the child for the learning process, whereas Sampler for older beginners ages 7 to 10 encourages children to interact with music, cultivating a love of music and actual musical ability. These popular Sampler piano classes help parents make the important decision to continue with long-term lessons.
In addition to its growth in child enrollment, a recent phenomenon at The Conservatory is its exponential growth in adult beginners. The Conservatory of Piano has applied its foolproof methodology to the creation of beginning piano classes for adults, named "Recreational Music Making" by the National Piano Foundation. This program guarantees the same success achieved by younger students in a completely stress-free, adult-centered environment.
For more information about the teaching philosophies of The Conservatory of Piano or for a schedule of classes and fees, please visit conservatoryofpiano.com.
About The Conservatory of Piano:
The Conservatory of Piano was founded in 1971 to provide a professional situation in which piano teachers could concentrate solely on providing consistently excellent piano instruction. The Conservatory operates two locations in central Ohio, with a faculty comprised entirely of graduates from accredited schools of music and universities with specialties in every area of piano pedagogy, from early childhood training through adult group instruction. The Conservatory believes in providing piano lessons for children and adults, regardless of age, ability or natural talent and should be accessible to everyone.
# # #