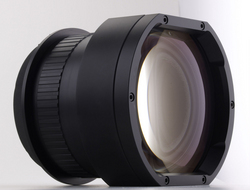 With its new lower price, the Schneider Cine-Digitar Zoom Tele-converter Lens will meet the needs of more people than ever before
Hauppauge, NY (PRWEB) March 9, 2009
Schneider Optics, the well known lens and professional filter manufacturer, has reduced the MSRP of the Schneider Cine-Digitar 1.1x-1.4x Zoom Tele-Converter Lens from $3,165 to $1,999 effective March 6, 2009.
The Cine-Digitar Zoom Tele-Converter Lens is specially designed for use with DLP and LCD video projection systems used in home theaters, conference rooms, classrooms, exhibition halls and auditoriums. This lens is particularly well suited to meet the needs of houses of worship, as it greatly increases the ability to locate the projector inconspicuously and where its operating noise will not be obtrusive.
The Cine-Digitar Zoom Tele-Converter Lens enables users to reduce an image to the optimal desired size without moving the projector. In addition, because at the bottom end of its scale this lens automatically reduces the image size by 10%, it enables users to maintain the original image size while moving the projector from 10 to 40 percent farther away from the screen.
"With its new lower price, the Schneider Cine-Digitar Zoom Tele-converter Lens will meet the needs of more people than ever before," said Brian Ludvigsen, Schneider Optics Manager of Sales and Marketing, Home Cinema. "This large price reduction, along with our introduction of more Cine-Digitar Anamorphic lens models to enable true Cinemascope projection in virtually any home theater, is further evidence of our long-term commitment to the entire digital projection community."
Designed for use with virtually any digital projector, Cine-Digitar Zoom Tele-Converter lenses feature a unique mechanical design that makes usage and mounting simple. Their flat surfaces allow users to simply set the lens on a table in front of the projector. Threaded mounting holes also allow the converter to be bolted to a stand, table or custom bracket. They are designed to allow a 50-percent offset with 0.9'' chips, and will function perfectly with 1.3'' chips, with no offset.
At a new reduced MSRP of $1.999, the extremely high quality, easy set-up, and amazing picture quality of Schneider Cine-Digitar Zoom Tele-Converter lenses provides an ideal solution for those who want optimum performance from moderately priced projection systems.
World-Renowned Quality
Schneider Cine-Digitar lenses set a new standard for lens performance in Digital Cinema and large-venue, high-brightness digital projection applications. They are designed and tested to be brighter, sharper and more uniform than any other lenses for digital projection. All Schneider lenses for digital projection systems are built to the same high standards that have made Schneider lenses for film projection world-renowned for superior sharpness, highly-efficient light transmission, low distortion, and faithful color rendition.
About Schneider Optics
Schneider Optics is a leading manufacturer and distributor of photographic equipment. It provides the world's highest quality photographic optics, including Schneider professional cinema projection lenses, home cinema projection lenses, world-renowned Schneider filters for motion picture and television production, B+W filters, and a wide range of lenses and accessories for digital and film photography and video.
For more information contact Schneider Optics, Inc., 7701 Haskell Avenue, Van Nuys, CA 91406 USA. TEL: +1 800 228-1254; FAX: +1 818 505-9865; projection (at) schneideroptics (dot) com or visit http://www.schneideroptics.com. To contact Brian Ludvigsen directly call +1 770 241 8810 or email BLudvigsen (at) schneideroptics (dot) com.
# # #