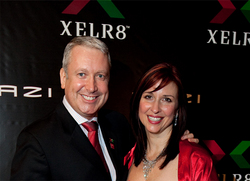 Top Home Based Business in 2009.
Dallas, TX (PRWEB) March 9, 2009
Network marketing experts, motivational trainers and Team Inspirit™ Founders Garrett and Sylvia McGrath launched their new video online today. To watch the new 12-minute video, go to TeamInspirit.com and click "Why XELR8? Why Now?"
Additionally, the McGraths authored the Team Inspirit™ SUCCESS GUIDE: The 8-Step Plan for Creating Financial Freedom With XELR8, a complete training system for XELR8 Distributors, which features 17 XELR8 Diamond distributors. It was launched at XELR8's National Convention to a packed auditorium at the Las Vegas Hilton. Million-Dollar Earners with XELR8, Garrett and Sylvia McGrath share insider insights, instructive examples and proven techniques to those who want to achieve similar success, and provides new XELR8 Associates valuable shortcuts and coaching based on the McGraths' impressive industry experience. This 100-page color workbook and accompanying CD's, provides an extraordinarily complete, step-by-step guide from new XELR8 distributors' first minutes in business, through to achieving the XELR8 'Diamond' level, where leaders enjoy a full-time income, time-freedom, security and other lifestyle rewards that a network marketing business provides. The McGraths were the first XELR8 Distributors to achieve all of its top leadership positions (XELR8 Diamond, XELR8 100K Diamond, XELR8 250K Diamond) and develop training tools and marketing materials utilized by the majority of the XELR8 distributor organization. The couple offers daily, live 12-minute Inspiration, Motivation and Leadership Training Calls for their XELR8 distributors, which are recorded and posted to their website. For more information, email garrettandsylvia@teaminspirit.com or call 214-823-2450.
At the National Convention, XELR8 announced 5 "Firsts" regarding their product, Bazi™, the nutritional drink used by over 350 famous athletes, which were highlighted in Empower™ Magazine, the new XELR8 movie, and announced in recent XELR8 press releases:
5 Network Marketing "Firsts":
(1) One of the Nation's Premier Medical Centers Teams Up with XELR8™.
The Greenville Hospital System is one of the largest health systems in the nation and they have teamed up with XELR8 to provide the utmost in health and wellness to their million plus patients. (See article in Empower™ Magazine pages 46-47 and recent press releases).
(2) World Renowned Surgeons and Doctors Praise Bazi™ for its Health Benefits.
The world renowned Orthopedic Surgeon Dr. Richard Hawkins, who is listed in America's 100 Best Doctors, has published over 200 articles, written 7 Medical Textbooks and Clinical Professor at 2 Universities; and CEO of the Steadman-Hawkins Clinic Dr. Jim Silliman praise Bazi for its health benefits. One of the top orthopedic centers in the world, the Steadman Hawkins Clinic has chosen to use Bazi to help their patients during their surgical and recovery process. Dr. Richard Hawkins states in the XELR8 DVD movie that "Bazi is not just better nutrition, it's The Best." Dr. Jim Silliman states in Empower™ Magazine: "In addition to using BAZI™ in our medical facilities, my entire family uses it." (See article in Empower™ Magazine pages 46-47 and recent press releases).
(3) XELR8™ to Initiate Research Programs with Top Medical Research Institutions.
XELR8 will further validate the effectiveness of Bazi by using the resources within The Steadman-Hawkins Foundation, an internationally recognized research institute leading the world in sports medicine and clinical research, and also within the Greenville Hospital System, which at any given time there are approximately 500 clinical trials occurring in the areas of oncology, pediatric oncology, women's health, cardiology and vascular disease. (Team Inspirit Media)
(4) Top Celebrities use Bazi™.
XELR8's commitment to quality, science, and research has earned them a loyal following of over 350 world-class athletes, such as 5-Time Cy Young Award winner Randy Johnson, World Series Co-MVP Curt Schilling, Super Bowl Champions Mike Alstott and Lawyer Milloy, All-Pro NFL Players Brian Griese and Marco Rivera, Olympic medalists Briana Scurry, J.J. Thomas and Caroline Lalive, Stanley Cup winners Marty Turco, Brendan Morrow, Blake Sloan and PGA Tour professional Tom Pernice, Jr.
(5) Elite Performance Centers Trust Bazi™ for their Athletes.
Darren Holmes, former World Series pitcher and owner of Acceleration Sports Institute (ASI) states: "In my whole career, through World Series and beyond, I've never taken supplements that have affected my body in a positive way like Bazi™ has." (See EMPOWER™ Magazine, page 20, 35) Acceleration Sports Institute (ASI) is a cutting-edge sports performance training center, developed by professional athletes who were not satisfied with their own training, that utilizes state-of-the-art methods and equipment.
Also announced: "Double Bonuses" - allowing XELR8 distributors to "write their own paycheck" in this economy, garnering XELR8 the title, "Top Home Based Business in 2009." Examples:

Enroll 4 new Bazi Pack members in a month** (2+ cases with 2 case autoship) - Earn $1,200-$1,500.
Enroll 8 new Bazi Pack members in a month** (2+ cases with 2 case autoship) - Earn $3,400-$4,000.
These statements have not been evaluated by the Food and Drug Administration. This product is not intended to diagnose, treat, cure or prevent any disease.
**Disclaimer: XELR8 Independent Distributors Garrett and Sylvia McGrath, Team Inspirit™, and XELR8 do not represent, guarantee or warrant that an individual will earn any amount by participation in the XELR8 opportunity. Results vary and depend upon individual skill and efforts. Refer to the complete XELR8 Compensation Plan and the XELR8 Policies & Procedures online.
For more information, email garrettandsylvia(at)teaminspirit.com or call Garrett and Sylvia McGrath at 214-823-2450.
###