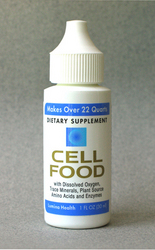 Over the past decade we've been making CELLFOOD available in North America, we've had many e-mails and phone calls from elated fibromyalgia sufferers who tell us that CELLFOOD has helped give them quality of life. And, now the scientific research is backing it up
Sarasota, Florida (PRWEB) March 11, 2009
Fibromyalgia sufferers are likely to experience reductions in pain and fatigue when taking recommended dosages of CELLFOOD, according to research results from the University of Siena, Italy, published in the medical journal, Reumatismo.
A twelve week study involving thirty patients who did not respond to conventional therapies for fibromyalgia syndrome (FMS) found that both subjective and objective levels of pain, as well as fatigue from work and daily activities were significantly improved by the end of the study. Tender points on the body, a painful and common symptom of FMS were also noticeably reduced by CELLFOOD. Other symptoms, such as anxiety and early morning fatigue improved as well but were not statistically significant.
The study treated 21 patients with CELLFOOD and nine patients with a placebo after an initial diagnostic measurement and subjective evaluation of their FMS symptoms. The researchers reported that after 12 weeks of treatment with CELLFOOD, "there was marked clinical improvement of Fibromyalgia's symptomatology both on a subjective level (VAS) and on an objective level (tender point count) on treated patients." The researchers noted that this therapeutic, non-pharmacological approach could provide an important contribution in the treatment of patients with FMS. Because the patient's tolerance to CELLFOOD was optimal, the researchers indicated that further exploration of larger dosages for a longer period of time would provide even more insights regarding the efficacy of the product.
"Over the past decade we've been making CELLFOOD available in North America, we've had many e-mails and phone calls from elated fibromyalgia sufferers who tell us that CELLFOOD has helped give them quality of life. And, now the scientific research is backing it up," says Mark Rubin, President of Lumina Health Products, the North American distributor of CELLFOOD.
Michelle Schoffro Cook, DNM, DAc, CNC, best-selling and six time book author adds: "Many sufferers of fibromyalgia become disabled from chronic pain and fatigue, unable to work, or to enjoy life fully. It's tremendous to know that CELLFOOD is reducing pain and fatigue among fibromyalgia sufferers, particularly in those who have not received relief from previous treatment."
Fibromyalgia is a disorder of unknown etiology characterized by widespread pain, abnormal pain processing, sleep disturbance, fatigue and often psychological distress. People with fibromyalgia may also have other symptoms such as:

Morning stiffness
Tingling or numbness in hands and feet
Headaches, including migraines
Irritable bowel syndrome
Problems with thinking and memory (sometimes called "fibro fog")
Painful menstrual periods and other pain syndromes
Fibromyalgia affects an estimated three to six million people in the United States
The following criteria are used to give a medical diagnosis of fibromyalgia syndrome: widespread pain in all four quadrants of the body lasting for at least three months, tenderness in at least 11 of the 18 specified tender points, generalized aches or stiffness of at least three anatomical sites for at least three months, and exclusion of other disorders that are known to cause similar symptoms.
CELLFOOD® is a proprietary blend of oxygen and 129 minerals, amino acids, and enzymes available in over 70 countries and distributed by Lumina Health Products. Lumina Health Products identifies, develops, markets and distributes cutting-edge health supplements to a rapidly growing base of natural food retailers, health professionals and clinics throughout the U.S., Canada, and around the world.
The University of Siena is one of Italy's oldest and most esteemed public universities, particularly known for its Schools of Medicine and Law.
Michelle Schoffro Cook, DNM, DAc, CNC, is the best-selling author of The 4-Week Ultimate Body Detox Plan, The Ultimate pH Solution and her newest book, The Life Force Diet.
For more information, visit http://www.LuminaHealth.com.
###