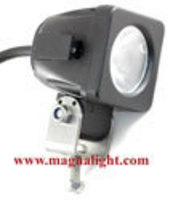 Larson Electronics' Magnalight.com offers a wide range of military field tested IR lights using both filtered visible light and IR LED emitters
Dallas, TX (PRWEB) March 10, 2009
Infrared light is typically measured in nanometers. Common ranges include 730nm, 850nm and 940nm. The higher the wavelength, the less likely there is any visible light produced. Certain types of cameras and night vision equipment must be used to enhance the human eyes' ability to see with IR light. IR lights are commonly used with security cameras, which are typically tuned to capture images using IR light. However, the military continues to be the largest consumer of IR lights, in order to gain an advantage over adversaries who are not equipped with night vision gear. In effect, soldiers equipped with the IR lights and night vision equipment can easily see as well as they can during daylight hours. At the same time, the soldiers operate in stealth mode, since the enemy sees no visible light emissions. Finally, a growing number of varmint hunters are using IR lighting and night vision equipment to identify targets. IR lights are generally produced via filtering visible light or LED emitters tuned to produce only the desired wavelengths of light.
"Larson Electronics' Magnalight.com offers a wide range of military field tested IR lights using both filtered visible light and IR LED emitters," stated Rob Bresnahan, President of Larson Electronics. Our 1870-M-IR850 features a 35 watt High Intensity Discharge (HID) light source filtered by a coated borosilicate cover that produces 850nm light. This light is widely deployed in Iraq. We now offer an upgraded HID-65-50-S-IRC, which is a 50 watt HID spotlight with a snap on filter cover that enables to soldiers to use the light in visible mode or in covert infrared mode. We recently added a 940nm lens option to our HLC-IR HMMWV headlight cover, which is designed to fit over the headlights on the AM General military Humvees. So we have added several new options for filtered visible lights. We even released the HML-5M-IR-850 filter cover for our HML-5M magnetic handheld spotlight, which is part of the Escalation of Force Kit issued to every deployed soldier."
Rob continued, "However, we made some significant advances in IR LED emitters, both in form and functions. Our LEDLB-24-VIR lights feature both visible and IR LEDS in the same light fixture. Separate power leads enable MRAP builders and operators to tie the visible LEDs to the black out system while leaving ongoing power to the IR LEDs. We offer this IR LED light with either 850nm or 940nm wavelength options and the light only draws 3 amps on 24 volts DC while covering an area 900 feet in length. Our LEDLB-4-IR is a small form factor LED Infrared light emitter that covers an area 90 feet long by 90 feet wide, while drawing only .5 amps on 24 volts. This light is being used as IR grill lights on larger convoy vehicles as well as military style ATVs due its small size, IP 67 watertight rating and durability. We just released our smallest IR emitter, measuring 2 inches by 2 inches by 2.5 inches, it is ideal IR trailing light for convoy type vehicles. The LEDLB-1-IR features a single 3 watt IR LED and is offered in 850nm and 940nm and draws only a ¼ amp on 12 volts and 1/8 amp on 24 volts."
"For vehicle to vehicle portability, we have both IR and visible LED emitter lights with magnetic bases that can be plugged into a typical cigarette plug socket. The LEDLB-12-M-IR is a magnetically mounted, 36 watt IR LED light that produces a beam that covers an area 450 long and 125 feet wide. The amp draw with this IR LED light is 1.5 amps on 24 volts. On the visible side, the MRAPs operators are deploying our LED10W-6R which is a 60 watt LED light that reaches 1200 feet while drawing 2.5 amps on 24 volts. All of our LED lights operate on 9 to 32 volts DC, which makes them applicable to all types of vehicle systems, boats and deep cycle batteries. At this point, every branch of the US military is using our visible LED lights and/or our IR LED light emitters on some type of vehicle or boat. The feedback has been excellent. I think there is still an impression out there that LED lights produce very little power and distance. However, the industry and Larson Electronics have made significant improvements in LED technology. The LED lights in the past did little more than glow to a distance of 15 feet. Now, we have small form factor LED lights that easily reach 1500 feet with either visible light or IR light, while still taking advantage of the ultra-low amp draw consistent with LED technology," Rob concluded.
Larson Electronics has a wide array of LED lights for vehicles, boats and industrial applications. As manufacturer of the HLM-5M magnetic spotlight included in the Escalation of Force kit, Larson Electronics continues to develop innovative, durable spotlights and flood lights for military and security applications. You can learn more at magnalight.com or by calling 1-800-369-6671 or 1-903-498-3363.
###