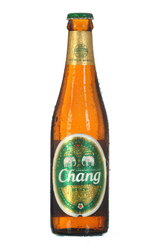 Chang is no doubt one of the finest tasting beers in the world. This was underscored for us in 2008 by Chang winning two international gold medals at the prestigious Beverage Testing Institute 2008 World Beer Championships and the MONDE SELECTION Bruxelles - World Selection of Quality
New York, N.Y. (PRWEB) March 10, 2009
Chang Beer, the No. 1 selling beer in Thailand, has bucked the premium U.S. import trend in 2008 with a 140 percent increase in case volume in the U.S. in 2008. During 2008, sales of super-premium imported beer brands declined 3.4 percent in the recessionary environment, and sales of Asian beers were off 9.8 percent. This makes Chang among the fastest growing imports in the U.S., and by far the fastest growing of all Asian beer imports.
John Lennon, president of Chang U.S. importer New York City-based International Beverage USA, said that Chang Beer case volume more than doubled in 2008, and shipments in each quarter exceeded the previous quarter and the same quarter year ago. He also noted that depletions have risen progressively with each succeeding quarter since the U.S. launch of Chang in July 2007.
Lennon credits Chang's impressive growth performance in the U.S. to two things: a superior tasting, award-winning product and a committed sales and distribution network whose customers are passionate and enthusiastic about Chang. Chang Beer is now available through 60 distributors in 22 states, with an additional eight states to be added by end of Q1 2009.
"Chang is no doubt one of the finest tasting beers in the world. This was underscored for us in 2008 by Chang winning two international gold medals at the prestigious Beverage Testing Institute 2008 World Beer Championships and the MONDE SELECTION Bruxelles - World Selection of Quality," said Lennon. "But the real vote of confidence in Chang came from Chang consumers who, based on our strong depletion numbers, love the beer and are pleased to have it available in the U.S."
Chang Beer is an extremely smooth, crisp and full-bodied premium 100 percent malt lager and is the perfect accompaniment to flavorful Asian cuisine. Golden honey in color, Chang has a complex aroma - a smoky, peaty blend of sweet green apples and vanilla - and a beautifully balanced flavor which is crisp, smooth and incredibly refreshing. It successfully combines the flavor of a full bodied beer with light citrus notes which perfectly complement the exotic tastes and textures of Thai and Asian cuisine.
Lennon said the commitment of his sales team and distributors to carry out its rollout plan aggressively in 2008 put Chang in a position to build volume. Per plan, Chang is now available in more than 2,200 Thai and Asian Fusion restaurants, which represents some 72 percent of its targeted restaurants. Lennon noted that an impressive 97 percent of these locations are branded with Chang POS. Chang is now distributed in 22 key states, which represents 75 percent of imported beer sales.
Lennon noted that Chang is now available for sale in nearly 2,000 off-premise retail locations, including several major grocery chains throughout the western U.S. He expects off-premise accounts to grow in 2009 and that Chang will be available at more non-Thai/Asian on-premise locations.
For more information about Chang Beer, contact John Lennon, president of International Beverage USA, 60 East 42nd Street, Suite 2134, New York, NY 10165, tel. 646-896-3807, and visit the Web site changbeer.com to learn more about this super premium import.
###