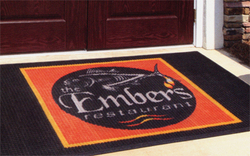 We're very pleased with how nice our logo looks on this durable entrance mat
Cleveland, OH (PRWEB) March 10, 2009
Waterhog Impressions logo floor mats printed onto the carpet utilizing state-of-the-art Jet Print Technology. This new technology makes 3D images and fine details such as "phasing in" possible. A premium 100% rubber backing with rubber reinforced bi-level cleaning surface provides years of performance life. Made with 25% recycled content, cleated or smooth backing options are available for a variety of applications. Waterhog Impressions include a standard "water dam" border to hold moisture on the mat and off the floor.
Waterhog Impressions are available in 17 attractive colors and a variety of sizes. They feature a premium 100% rubber backing with rubber reinforced bi-level cleaning surface that provides years of performance life. The new printing technology creates logos showing fine details in 3D and shaded images, and is a great way to advertise your business to visitors or those passing by.
"We're very pleased with how nice our logo looks on this durable entrance mat," offered Susan Jennifer.
These logo mats feature a raised nub surface to remove and trap dirt and moisture, holding it on the mat below shoe level so it is not tracked inside. These nubs are reinforced with rubber to resist crushing. The carpet mats are easy to clean, and may be hosed off or vacuumed, and are not adversely effected by salt or melting ice. The National Floor Safety Institute certifies them slip-resistant.
About Martinson-Nicholls
Martinson-Nicholls, has established itself as a leader in custom floor matting, heated floor mats, and safety solutions for more than 25 years.
Martinson-Nicholls provides the customer with the exact size of floor matting needed--small, large, standard, nonstandard, special shapes and logos. Custom installations are also a specialty of the company.
Anti-slip safety tapes and treads are available in various sizes and textures from hand cut or die cut pieces to full rolls and special shapes.
Martinson-Nicholls concentrates on floor safety, noise reduction, and anti-fatigue and indoor and outdoor heated floor mat applications. They welcome the special applications that our customers present, as this has enabled them to satisfy come very unique and unusual problems for customers. For more information, please visit http://www.floormat.com.
###