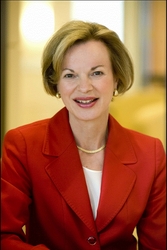 I am proud, honored and privileged to take on this role and serve the ACP community
Philadelphia, PA (PRWEB) March 11, 2009
BC Decker Inc, publisher of the critically acclaimed internal medicine reference, ACP Medicine, is honored to announce the appointment of Elizabeth G. Nabel, MD, as new Editor-in-Chief. Dr. Nabel is an internationally renowned researcher and has been the recipient of many awards of distinction and is renowned worldwide for her contributions to medicine. She has a long standing interest in medical education and is a champion of the concept "from bench to bedside."
As the new Editor-in-Chief, Dr. Nabel brings her estimable experience in, and unique vision of, medicine to bear on ACP Medicine, official publication of the American College of Physicians (ACP). "I am proud, honored and privileged to take on this role and serve the ACP community," said Dr. Nabel. "I pledge to deliver excellence in ACP Medicine and will continue to focus on the best evidence-based medicine, while we continue to discover new things in molecular science."
Dr. Nabel is the third Editor-in-Chief of ACP Medicine since its inception 30 years ago. Dr. Daniel Federman, Founding Editor of Scientific American Medicine, remarked "I think she is a terrific find. Betsy is a bridge to the molecular evolution of medicine and is faithful to the rapid updating and introduction of new material into the text."
"Under Dr. Nabel's leadership, ACP Medicine will continue to be an invaluable evidence-based internal medicine resource for busy physicians," said John Tooker, MD, MBA, FACP, executive vice president and chief executive officer of the American College of Physicians.
In addition to many exciting changes, Dr. Nabel envisions adding teaching videos to the online home of ACP Medicine, http://www.acpmedicine.com. She believes that these videos, teaching slide sets, and pod casts will enhance the educational experience for residents and practitioners alike. Dr. Nabel also intends to expand the scope of the content by infusing the opinions of multiple expert authors into each chapter, providing different perspectives on varying medical topics. Together with Decker, Dr. Nabel will expand the scope of ACP Medicine into the global medical education community and will strive to make ACP Medicine an internationally adopted medical reference.
Optimism for the new Editor-in-Chief was described succinctly by Brian Decker, President and Publisher: "We are persuaded that Dr. Nabel's stewardship will enhance the already remarkable success of ACP Medicine. The work draws its strength from its rich history, but its vitality stems from the fresh vision that Dr. Nabel brings to the enterprise. Since its first incarnation as Scientific American Medicine, this work has been the benchmark for innovation in medical education. We expect the track record to be extended during the Nabel regime."
About Elizabeth G. Nabel, MD
Elizabeth G. Nabel received her medical degree from Cornell University Medical College in 1981. She completed an internship and residency in internal medicine followed by a clinical and research fellowship in cardiovascular medicine at Brigham and Women's Hospital/Harvard University Medical College. In 1987, she joined the faculty at the University of Michigan as an Assistant Professor of Medicine and became the Director of the Cardiovascular Research Center in 1992, Professor of Medicine and Physiology in 1994, and Chief of the Division of Cardiology in 1997. Dr. Nabel joined the National Heart, Lung, and Blood Institute (NHLBI) in 1999 as the Institute's Scientific Director of Clinical Research. In 2005, Dr. Nabel became Director of the NHLBI.
Dr. Nabel has received numerous awards, including the Willem Einthoven Award from Leiden University in the Netherlands, the Amgen-Scientific Achievement Award from the American Society for Biochemistry and Molecular Biology, and Distinguished Achievement Awards from the Basic Cardiovascular Sciences Council and the Atherosclerosis, Thrombosis, and Vascular Biology Council of the American Heart Association (AHA). In 2001, she received an honorary doctorate from the University of Leuven, Belgium and in 2006 from Mt. Sinai School of Medicine, New York. She received the 2007 Vision, Innovation, Dedication and Advocacy Award from The National Alliance for Hispanic Health and in 2008 was the recipient of the Wenger Award for Distinguished Service from WomenHeart, Weill Cornell Medical College's Alumni Association Award of Distinction, the Scientific Leadership Award from the National Marfan Foundation, and the Eugene Braunwald Academic Mentorship Award from the American Heart Association.
Dr. Nabel is an elected member of the Institute of Medicine of the National Academy of Sciences, the American Society of Clinical Investigation, and the Association of American Physicians, as well as a Fellow of the AHA, the American College of Cardiology, and the American Association for the Advancement of Science. She serves on the editorial board of many scientific journals, including being an editorial board member of the New England Journal of Medicine, past Board of Reviewing Editors for Science, and associate editor for the Journal of Clinical Investigation.
A partner on 16 patents, Dr. Nabel is the author of more than 250 scientific publications, and she has mentored more than 45 students and fellows.
*Dr. Nabel's work as author and editor is performed outside the scope of her employment as a US Government employee. These works represent her personal and professional views and not necessarily those of the US Government.
About BC Decker Inc
BC Decker Inc has published some of the most important works in medicine and surgery, including Holland-Frei's Cancer Medicine, Bayless-Hanauer's Inflammatory Bowel Disease, and Hurst and the 30 volume Current Therapy series. Decker is respected for the quality of its titles and renowned for its authors. The company realizes half of its sales outside the United States through its relationships with the best international houses. Decker also publishes ACS Surgery, née Scientific American Surgery, and 20 specialty journals in medicine, surgery, and dentistry. Every Decker publication is available in print and digital formats. The company's publishing partners include American College of Physicians, American College of Surgeons, American Board of Surgery, American Board of Otolaryngology, American Academy of Otolaryngology, Society for Molecular Imaging, and Society for Nuclear Medicine.
About the American College of Physicians
The American College of Physicians (http://www.acponline.org) is the largest medical specialty organization and the second-largest physician group in the United States. ACP members include 126,000 internal medicine physicians (internists), related subspecialists, and medical students. Internists specialize in the prevention, detection, and treatment of illness in adults.
# # #