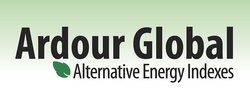 New York, NY (PRWEB) March 10, 2009
The Ardour Global Alternative Energy Index℠ (TICKER: AGIGL) will add 13 new components, effective 9:00 AM (EST) Monday March 23, 2009. 15 stocks will be deleted from the index, changing the number of index components to 107. The changes result from the quarterly rebalancing of the index. A list of added and deleted constituents is available at: http://ardour.snetglobalindexes.com/media/AGIGL%20Q1%202009%20Constituent%20Changes_1535564656.pdf
In addition, the Index Committee has decided to implement a rule change eliminating companies whose primary business is water infrastructure from the universe of eligible candidates. This rule change will go into effect with the June 2009 rebalancing.
The Ardour Global Alternative Energy Index℠ is a capitalization-weighted, float-adjusted index of the most prominent alternative energy stocks in the world. To be included in the AGIGL index, companies must be pure-play and the stocks must pass multiple screens, including for capitalization, float, exchange listing, share price and turnover.
The Ardour Global Index℠ (Extra Liquid) (TICKER: AGIXL), which contains a fixed number of 30 stocks, had three additions against three deletions. Esco Technologies (TICKER: ESE US); MEMC Electronic Materials Inc. (TICKER: WFR US) and EDP Renovaveis SA (TICKER: EDPR PL) were added, while Byd Co Ltd (TICKER: 1211 HK); Conergy AG (TICKER: CGY GR) and Trina Solar (TICKER: TSL US) were deleted.
A complete list of constituents and weights will be posted on the AGI family of alternative energy indexes web site, http://ardour.snetglobalindexes.com/about_the_indexes.php.
Detailed information, including constituent data, rules and price information, on the AGI family of alternative energy indexes is available at http://www.ardourglobalindexes.com. Data is also available through most vendors of financial data.
Index: Ardour Global Alternative Energy Index℠
Ticker: AGIGL
Index: Ardour Global Index℠ (Extra Liquid)
Ticker: AGIXL
Contacts:
Walter Nasdeo
Ardour Capital Investments, LLC
212-375-2958
Joseph LaCorte
Ardour Global Indexes, LLC
646-467-7927
http://www.ardourglobalindexes.com
###