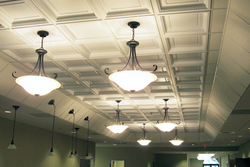 We are excited to offer free samples and shipping to our customers
Graton, Calif. (PRWEB) March 11, 2009
Ceilume, manufacturer of The Smart Ceiling Tile, is now offering free samples and free ground shipping on all orders to customers in the United States and Canada. In an effort to help customers during tough economic times, the company's offer is a first in the ceiling tile industry. Customers can order up to three different styles, have them shipped directly to their doorstep and test them in the comfort of their own home or office.
Ceilume is the only ceiling tile made from a specially formulated vinyl plastic, making them incredibly lightweight and easy to install in suspended ceiling, grid mount, direct mount and refacing applications. The company offers drop ceiling tiles and ceiling panels in more than 50 styles and six colors. Ceilume's decorative ceiling tiles have been used in a variety of both home and commercial installations including bedrooms, kitchens, bathrooms, basements, offices, restaurants, retail stores, television news rooms, hotels, churches, schools and even celebrity dressing rooms.
Ceilume's uniquely formulated material offers several eco-friendly features making Ceilume The Smart Ceiling Tile and smart choice for consumers:

Fire Smart: All tiles are Class 1 Fire Rated. The Feather-Light Series is approved for installation under ceiling fire suppression sprinkler systems.
Water Smart: Vinyl material is not affected by exposure to water or humidity, and will resist sagging and staining.
Allergy Smart: GREENGUARD certified for indoor air quality and use around children and in schools. Will not harbor dust, mold, mildew, bacteria or odors.
Light Smart: High light reflectance saves on lighting and energy bills while creating a brighter and more inviting atmosphere.
Sound Smart: Sound absorbing designs reduce interior sound echo and reverberation, creating a quieter environment.
Earth Smart: Feather-light design uses fewer resources to manufacture and ship, and material is 100% locally recyclable.
"We are excited to offer free samples and shipping to our customers," said Ed Davis, president of Ceilume. "We are confident that once the customer is able to see and feel our ceiling tiles, they will be impressed by the quality and durability of the product as well as its lightweight, easy-to-install design."
About Ceilume:
Located in Graton, California, Ceilume is an international manufacturer of vinyl, decorative, ceiling tiles. Debuting in the 1950s amidst the post-war wave of modern interior design, Ceilume ceiling tiles have been used around the world for more than 50 years and have grown in popularity with the e-commerce boom and recent demand for eco-friendly products. Tastes and styles have evolved over the decades, and Ceilume has evolved with the times, still offering the great products and customer service that have been their hallmark for half a century. Ceilume Smart Ceiling Tiles is family owned and prides itself on supporting its community, encouraging sustainability and being a good workplace for its employees. For more information, please call 1-800-521-4261 or visit http://www.ceilume.com.
###