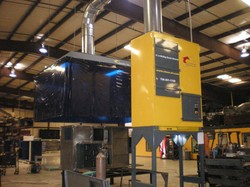 It often not only improves the workers' safety and environment, but often also speeds up product deliveries and results in quality improvements as well.
Torrance, CA (PRWEB) March 10, 2009
Clean Air America has released a modular welding ventilation system that filters toxins out of facility air at the point-of-source for industrial operations such as welding and cutting. The technology responds to ever-increasing state and federal regulations on venting industrial smoke & dust.
The Clean Air America system is engineered to require lower maintenance, so workers running a line have fewer disturbances to their primary work. With a CAA air filtration system, employee morale can also be improved. Plus, the unpolluted environment can enhance product quality due to the diminished smoke and dust in the production area.
The need for capturing and filtering smoke in manufacturing has become increasingly clear and familiar to companies with extensive welding, brazing and cutting operations.
Hex chromium, a material that prevents oxidation in finished steel products, is a human carcinogen known to cause lung cancer. Manganese, a steel alloy for wear resistance, is similarly stressful to exposed workers and can affect the central nervous system.
Uniquely engineered modular air collection and filtration systems can improve plant air quality to above "normal," and because the system is engineered to draw welding smoke, dust and aerosols close to the source, the result is a cleaner, safer and more cost-effective industrial operation.
Fergie Haughton, an air systems specialist at Clean Air America (Rome, GA), a company that engineers, manufacturers, installs and maintains a broad line of air collection and filtration systems for welding and other operations throughout the aerospace, automotive, laser, mining and construction industries, says many of his company's customers have recorded productivity improvements ranging between two and ten percent after air collection and filtration systems have been installed.
"Even a two percent improvement is a very meaningful one to many companies," Haughton says. "It often not only improves the workers' safety and environment, but often also speeds up product deliveries and results in quality improvements as well."
Haughton adds that depending on the size of the system and application it supports, the welding ventilation unit can pay for itself in months to a year or two.
In plants operating heating and air conditioning systems, venting becomes more expensive than air collection and filtration systems. The reason -venting leads to loss of heated or chilled air which translates to costly "energy losses."
The amount of money sent into the atmosphere along with vented gasses can be astonishing, even to plant managers. Glen Tuplin, Facilities Manager at F&P Georgia, a manufacturer of components for Honda and Nissan, says his 200,000+ sq. ft plant has air conditioning and heating costs of approximately $2.00 cfm and $4.00 cfm respectively.
"Our exhaust total air volume was 103,000 cfm," Tuplin explains. "Because our system captured and returned plant air (rather than exhausting it to the outside), it was simple math to see that we could save $200,000 annually with the system."
Another significant benefit of the welding ventilation and filtration system is fire suppression. Many different plant operations produce dust, aromatics, oil mists and other substances--all of which are reduced in the facility air by the Clean Air America filtration system.
For more information, contact Fergie Haughton at Clean Air America, Inc., 7 Superior Drive SE, Rome, GA 30161; Phone: 706-291-1700; Fax: 706-291-1747; http://www.clean-air.com
###