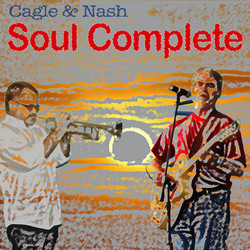 Cagle and I have been friends and fellow musicians in various bands since the age of 15
Charlotte, NC (PRWEB) March 17, 2009
Indie recording label Churchill-Nash Records announced today that the debut album from Cagle & Nash entitled "Soul Complete" is now available to purchase online and in music stores everywhere.
Even before the launch of their initial album, Cagle & Nash has become an Indie sensation. Singles off the record such as "Pick Up the Phone", have been showcased on radio stations throughout the United States and two syndicated shows, and the group has already drawn comparisons to many musical greats such as to Steely Dan, John Legend, Michael Buble, Donald Fagen, Hall and Oats and the Bobby Blue Band to name a few.
The long list of comparisons may come from the wide range of musical genres Cagle & Nash perform in. From soul to pop, to R&B to jazz, Cagle & Nash enjoy playing in all types of music without being confined to one, said songwriter/producer partner Rick Nash.
Nash focuses his instrument chops on trumpet/flugelhorn, with Greg Cagle primarily on vocals and guitar, piano & sax. Both work closely together to create the awesome arrangement and production value.
One of the reasons for the great intrigue in the new band is this is not the first time Cagle and Nash has collaborated together. They have known each other since meeting in high school in Concord, NC, and have played together on and off since then, but this is the first time they are the leading musicians together.
"Cagle and I have been friends and fellow musicians in various bands since the age of 15" Nash said. "Greg and I always kept in touch, but then last year we discussed for the first time working together as a team and we decided on a concept and discussed the tunes and planned the arrangements and production and dove in feet first."
Nash continued: "It has been a very rewarding relationship and we decided that there we have a lot more ideas just chomping to be recorded as soon as this CD is released."
The group worked together for nine months on the arrangements of 11 songs, all of which could be a leading single in their own right. That makes "Soul Complete" an early favorite for the unofficial label as best Indie albums to listen to from start to finish
Cagle said: "I am having more fun with music than I've ever had and I expect it to continue."
For more information, visit their MySpace page or http://www.cagleandnash.com .
Mary Charles
Churchill-Nash Records
803-327-9301
info (at) churchillnash (dot) com
###