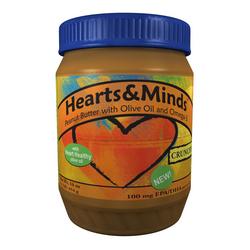 We're committed to making eating healthy easier for our customers
Chicago, Ill. (PRWEB) March 11, 2009
Hearts&Minds LLC, a food company dedicated to making the foods that you love to eat better for you and with great taste, today announced that Amazon.com now offers Hearts&Minds Peanut Butter with Olive Oil and Omega-3 (EPA/DHA), the online marketplace's first all-natural peanut butter with olive oil and omega-3 (EPA/DHA).
Amazon.com, which sells products from electronics to toothbrushes, attracts over 615 million visitors annually and has separate websites in Canada, the United Kingdom, Germany, France, China and Japan. The Amazon.com network offers over 1,200 brands on its online grocery store, about half of which are natural or organic products such as those from Annie's Homegrown, Wild Oats, Bear Naked and Nature's Gate.
Hearts&Minds LLC has seen great retail acceptance since the launch of its peanut butter in March 2007; the product is on shelves in grocery and health foods stores in California, Illinois, Massachusetts, Missouri, Maryland, Texas and Wyoming. Hearts&Minds is carried by Tree of Life, the nation's leading distributor of natural and organic food products; DPI-Midwest, a regional distributor of specialty and perishable food items; and SourceOne Sales and Marketing, a national syndicate of food brokers.
"We're committed to making eating healthy easier for our customers," said Robert Gonzalez, President of Hearts&Minds. "Amazon.com helps us make healthy food more available and offers the perfect complement to our traditional distribution and sales efforts."
Unlike other peanut butters, Hearts&Minds replaces 40 percent of the peanut oil in each jar with heart-healthy olive oil, enabling it to be the first peanut butter with a health claim. And each serving contains 100mg per serving of omega-3 (EPA/DHA), great for brain, eye and heart health. Finally, using a unique formulation and high-quality ingredients, Hearts&Minds peanut butter also has more roasted peanut flavor than traditional peanut butters, making it both healthy and tasty.
About Amazon.com, Inc.
Amazon.com, Inc., (Nasdaq:AMZN), a Fortune 500 company based in Seattle, opened on the World Wide Web in July 1995 and today offers Earth's Biggest Selection. Amazon.com, Inc. seeks to be Earth's most customer-centric company, where customers can find and discover anything they might want to buy online, and endeavors to offer its customers the lowest possible prices. Amazon.com and other sellers offer millions of unique new, refurbished and used items in categories such as health and personal care, jewelry and watches, gourmet food, sports and outdoors, apparel and accessories, books, music, DVDs, electronics and office, toys and baby, and home and garden.
About Hearts&Minds, LLC
Hearts&Minds LLC is a new food company dedicated to making the foods that you love to eat, better for you and with great taste. Founded by a trio of experienced entrepreneurs from the food industry, Hearts&Minds creates great tasting products thoughtfully made with the consumer's heart in mind by using heart healthy olive oil and omega-3 (EPA/DHA) to replace a portion of the fat in foods consumers love. Find more information at http://www.hearts-n-minds.com.
###