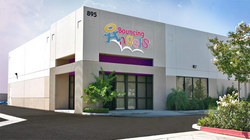 It's a scary landscape out there
Azusa, CA (PRWEB) March 12, 2009
With a nation reeling from an ongoing economic downturn, many Americans find themselves out of a job or struggling to make financial ends meet. While slowing economies seldom seem like the opportune time for any business, it's actually quite a favorable one for the party rental industry.
"Many successful businesses have their origins rooted in difficult financial times," remarked John Haytaian, Bouncing Angels' founder. "With many Americans now forced to trim their entertainment and vacation budgets, inflatable moonwalks and bouncer rentals are actually in increasing demand." Research shows that couples who once corralled their children for annual pilgrimages to Disneyworld or the Grand Canyon are now simply - staying put. There's an increasing trend among families to "nest" at home and in doing so, many are enjoying inexpensive activities at for leisure such as renting inflatable interactive games.
The movement has left Haytaian's Bouncing Angels company busy manufacturing inflatable units, though he understands the anxiety many of his customers have. "It's a scary landscape out there," admitted an openly honest Haytaian. "We have the numbers to indicate the growing demand in the inflatable industry, but we recognize it's another thing when you're the person dealing with customers directly. It's why we're so excited to release the inflatable stimulus package."
The Bouncing Angels' Inflatable Stimulus Package is a playfully named incentive program being offered to rental companies and newcomers to the inflatable industry. The program consists of a 'business in a box,' where virtually anyone can start or augment their monthly income with specially priced package deals from Bouncing Angels. "The idea is simple," added Haytaian. "We're offering anyone and everyone an opportunity to create a small business that can succeed in this economy - and we're doing so at unheard of prices. We're an industry leader with proven expertise and inflatable products that are second to none."
Bouncing Angels Inc. has put together specialy priced deals consisting of 3 unique inflatable moonwalks and supplies. With any purchase, customers also receive free marketing tools, an advertising banner, and even a dolly to aide in transportation. "Each package contains virtually everything anyone would need to begin renting units tomorrow," Haytaian affirmed.
Renting inflatable moonwalks and jumpers is a great small business to start, in addition to adding supplemental income to an existing full time job. The Bouncing Angels stimulus package is designed to have rental companies turn a profit in a very short period of time. "Rental companies can and will make money in these times," said Haytaian. "No matter how bad the economy gets, people still have to maintain a positive morale. There's no price to put on children laughing, and enjoying an afternoon of fun."
Bouncing Angels Inflatables is based in Azusa California and has been a leading manufacturer of moonwalks, inflatables, and jumpers for over a decade. The company is one of the foremost experts on the inflatable industry and employs specialists with vast experience in party rentals. They are available online at http://www.bouncingangels.com or toll free at (866) 558-6737.
# # #