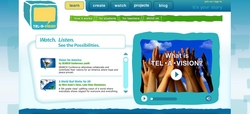 We are thrilled to be part of such an important movement that empowers our youth with a voice and a creative platform to share and ultimately achieve their desired future for themselves, their communities and the world
Minneapolis, MN (PRWEB) March 11, 2009
Move over television. Make room for TEL.A.VISION, a new Web 2.0 platform that inspires youth to create and share visions of hope and possibility through personal "vision videos." TEL.A.VISION (http://www.telavision.tv), started in Minnesota last fall, will launch nationally on Friday, March 20, as thousands of kids and educational leaders across America take part in the first ever TEL.A.VISION Day.
Created to celebrate the importance of vision, imagination and forward-thinking, especially among youth, TEL.A.VISION Day will feature in-classroom activities for elementary, junior and senior high schools; and the nation's first ever 24-hour online broadcast of vision videos, press events and special guest appearances. Additionally, a live broadcast from National Youth Leadership Council's (NYLC) 20th annual National Service-Learning Conference in Nashville will connect leaders across America as TEL.A.VISION contest winners are revealed.
"We are thrilled to be part of such an important movement that empowers our youth with a voice and a creative platform to share and ultimately achieve their desired future for themselves, their communities and the world," said Amy Meuers, conference director for NYLC.
For a complete list of in-classroom and online TEL.A.VISION Day activities, visit http://www.telavision.tv/telavision_day. For an in-depth look into TEL.A.VISION, view a recent press conference at http://www.telavision.tv/press_conference.
A New Digital Footprint
TEL.A.VISION was founded by Minnesota entrepreneur George Johnson to counteract negative imagery in the world, primarily on television. TEL.A.VISION videos are created via http://www.telavision.tv, with technology powered by One True Media (http://www.onetruemedia.com), a TEL.A.VISION partner and maker of online software that allows people to easily create and share video montages. Kids create a TEL.A.VISION video by combining compelling words, images and music into a three-minute guided tour through one's desired future.
Johnson launched the free online technology in Minneapolis last October. As a result, educators and youth leaders are successfully using the technology and curriculum within their classrooms and programs. The Minneapolis School District is slated to have students develop vision videos using TEL.A.VISION technology next fall. TEL.A.VISION also caught the attention of one of the nation's top educational organizations, TIES Education Technology Collaborative, which will engage its member-schools in TEL.A.VISION Day through a special contest where classrooms create collaborative "Vision for America" videos for a chance to win prizes and recognition during the 24-hour TEL.A.VISION Day broadcast.
"We are energized by this movement that is quickly emerging around TEL.A.VISION," said Johnson. "Teaching kids to live a more intentional life by creating a vision video, which combines goal-setting, visualization and creativity, is a powerful experience. Kids love TEL.A.VISION because it's fun. Educators and parents love it because it offers a positive online activity that has potential to create real value in the world."
About TEL.A.VISION
TEL.A.VISION, a partnership between George Johnson and Haberman (http://www.modernstorytellers.com), a national brand public relations firm representing pioneers, was formed to help kids realize their potential and create a world that works for all. TEL.A.VISION supporters include SEARCH Institute, Junior Achievement, Youthrive/PeaceJam, Wired for 2020 and the National Institute on Media and the Family. For more information, or to create and share a vision for a better world, visit http://www.telavision.tv.
###