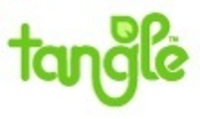 GodTube's rapid success showed us that the faith-based audience needed an online haven to communicate with those across the country and around the world who share their faith and their values
Plano, TX (PRWEB) March 12, 2009
One of the worst recessions in years has activated a national return to faith, family values and hope above material consumerism. Today, the world's largest faith and family based social network, tangle.com announced the launch of its new name and Web site which hosts more than 550,000 registered members. tangle.com is designed to appeal to one of the single largest audiences in America, the faith-based community and those seeking family friendly and safe content.
tangle.com is a global technology company that creates social networking tools for the faith and family-friendly market and allows members to connect and share their faith and lives through videos, photos, blogs, music and more. Originally launched as GodTube.com, a video sharing site, it set the record as the fastest growing Web site in the U.S. during its first month of operation. The site grew rapidly and attracted up to 2.7 million users a month. tangle.com has expanded to become the go-to Web site for the family-friendly community to safely interact online through a full social network.
"GodTube's rapid success showed us that the faith-based audience needed an online haven to communicate with those across the country and around the world who share their faith and their values," said the new CEO of tangle.com, Jason Illian. "We expanded the vision of the company to be more than just a video sharing platform and created tangle.com to give all people the ability to create deep, meaningful online relationships where they can support each other through these tough economic times. tangle.com enables people to connect their 'brick and click' worlds and focus on building real relationships - the kind of relationships that will keep people going when they lose their job or their home as millions of Americans are right now. The church has been social networking for hundreds of years - they just haven't done it online. Now we are bringing it into the 21st century with tangle.com and offering the 2 Billion Christians around the world an entirely new way to connect."
The new features of tangle.com include:

Multimedia sharing capabilities, including audio and video
Individual, channel partner, and band profile pages
Premium advertising opportunities
New applications and widgets
Contests and events
Cross-platform content sharing tools, including sharing with Facebook, MySpace, LinkedIn, etc.
Faith-based and family-friendly tools
tangle.com was pleased to add Dick Kovacevich, Chairman of Wells Fargo, to its Board of Directors in 2008. Commenting on his reasons for investing in the company, Mr. Kovacevich remarked, "Market trends for online usage, video, advertising, social networks and e-commerce continue to be strong. Additionally, tangle.com is a highly differentiated social network; tangle.com is family- friendly, 'content-safe' because content is reviewed before it is posted, the site has multiple revenue stream opportunities and was built from day one to be a commercial enterprise. As tangle.com adds more functionality, signs new business and content partnerships and enters the international and mobile markets, I believe tangle.com will be able to grow its metrics, revenues and profitability significantly in 2009 and beyond."
tangle.com serves as a digital compliment that facilitates families, organizations, bands, groups, and individuals to connect online to share their hopes, dreams and stories 24/7. Members can access a range of content and information from music to collaborative humanitarian projects. tangle.com takes it a step further than many other social networks by generating real world relationships -and is a community that mobilizes and takes action to help improve the lives of others through charitable projects and a wide array of outreach initiatives.
With access to the latest videos and content from more than 2,200 bands, members can upload and share a wide variety of family-friendly music videos and music clips for free, including rock, rap/hip-hop and numerous emerging bands. Featured videos include artists such as the Jonas Brothers, Switchfoot, Jeremy Camp, Jennifer Hudson, Toby Mac and many more chart-topping musicians. Comedy videos and comedy skits are also available, including those from family-friendly comedians such as Tim Hawkins, Michael Jr, and The Skit Guys. Emerging artists such as Travis Ryan (http://www.tangle.com/travisryanmusic) are working to build a following and have tracked more hits on tangle.com than on MySpace - since they are connecting directly with a target audience eager for their material. In addition to individual, band and group pages, tangle.com also features ministry pages to facilitate relationships between ministry partners and churches worldwide.
tangle.com offers a protected, family-friendly social network with material suitable for all ages. All submitted content to tangle.com is monitored and approved by a Community Care Agent prior to content being posted live on the Web site.
For more information visit http://www.tangle.com.
# # #