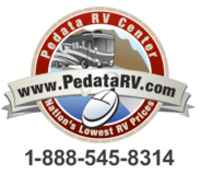 Travel trailers, fifth wheels and toy haulers are the more affordable RVs ranging anywhere from $9,000 to $80,000 right now depending on age, make and model. I'm not sure why those wouldn't be included in the stimulus
(Vocus) March 11, 2009
The new stimulus bill contains a five-page provision that includes motorhomes, yet the RV industry is still holding its breath. Clint Ethington of Pedata RV Center comments "It is a nod towards our struggling industry, and we are grateful for that. Every little bit helps. But the question is, will the tax break translate to actual sales? Will it be enough to at least slow the fast decline of the industry?"
According to the stimulus provision, if you purchase a motorhome between now and December 31, 2009 you will be able to deduct a portion (up to around $4,900) of the sales or excise taxes. The stipulations are that you must fall below an individual yearly income of $125,000 or joint income of $250,000 and the RV purchased must be a motorhome and not a travel trailer or other towable RV.
"Travel trailers, fifth wheels and toy haulers are the more affordable RVs ranging anywhere from $9,000 to $80,000 right now depending on age, make and model. I'm not sure why those wouldn't be included in the stimulus," says Ethington, whose inventory is largely made up of bigger, motorized RV's like Class A, Class B, and Class C motorhomes. "Our towable RV sales have been higher than normal in the past few months and that probably means due to last year's gas prices and this year's unstable economy, people are buying conservatively, which is sensible. But the incentives could change that. However, this is assuming the incentive will encourage buyers. There are other issues to deal with like loan availability. Banks aren't lending to people, even if they have a decent credit history."
Ethington says, "With consumer confidence down and unemployment up, I don't think this tax break is going to single handily turn our industry around. We just have to hope the overall stimulus package will."
For More Information:
For more information on Pedata RV Center or current trends in the RV industry contact Clint Ethington, General Manager, at clint (at) pedatarvcenter (dot) com or by phone at: 1-888-545-8314 or 520-807-0900. Or visit Pedata RV Center online at http://www.pedatarvcenter.com.
Contact:
Clint Ethington
Pedata RV Center
http://www.PedataRV.com
1-888-545-8314 or 520-807-0900
clint (at) pedatarvcenter (dot) com
###