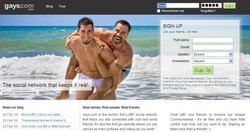 We are happy to see that Gays.com is shaping up to be a very international community
Hong Kong (PRWEB) March 12, 2009
Only ten months after its launch, the new social network Gays.com has reached the milestone of 50,000 members. Gays.com is the world's first LGBT social network for real friends, and has already become one of the most popular gay communities on the web.
"We are happy to see that Gays.com is shaping up to be a very international community", said Gays.com spokesperson Kenneth Tan on Thursday. "Our 50,000 members come from 162 countries and territories across all six continents. Among the top cities are San Francisco, Sydney, Singapore, Shanghai, Paris and London, but many of our members come from smaller towns as well."
Gays.com is also the first gay network where members can upload unlimited pictures and videos, and send their friends as many inbox messages and ShoutOuts as they want, all at no charge. "Our users have taken full advantage of this, sharing close to 60,000 pictures, and sending each other 67,000 messages," added Tan.
Prior to the launch of Gays.com, gay and lesbian networks were either dating or hookup sites, and there was no social network that focused on helping people stay in touch with their real-world friends. As a result, gay men and women were mostly hanging out in separate online spaces with little or no interaction between the two groups.
"We made it our goal right from the start to build an inclusive environment -- one where all subgroups within the LGBT community are connected so that no one feels left out", Tan explained. "With 215,000 unique visitors and one million page views every month, we feel this is exactly what people have been waiting for."
Future plans for the social network include CityScene, a new service that will map gay-owned and gay-targeted bars, clubs, restaurants and businesses in cities around the world. CityScene will combine user-generated listings and reviews with online groups, and subsequently incorporate Gays.com Events -- another new feature that will help members to plan, organise and manage events, find the hottest parties and stay informed about community events in town.
###