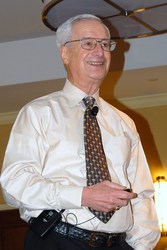 Washington, DC (PRWEB) March 12, 2009
In the face of decreasing endowment values, budget shortfalls, and decreasing donations, social service and public sector executives are facing a generational crisis that threatens to shake the very foundation of the social safety net in the United States. The Madoff scandal alone has caused several nonprofits to close their doors, and severe budget cuts are negatively affecting public sector organizations across the country.
Last week, 50 organizations convened in Washington, D.C., to discuss ways to lead their organizations and the sector through this crisis. Led by Harvard Business School professors Robert Kaplan and Allen Grossman, and facilitated by nonprofit consultants Ascendant Strategy Management Group, the conference focused on how organizations can effectively implement and manage strategy to survive and thrive in the new environment.
Public sector participants in this first-ever gathering of leaders from the public and social sectors included the Federal Bureau of Investigation, the Securities and Exchange Commission, the District of Columbia Public Schools, Fulton County Public Schools, the European Patent Office, the Federal Reserve Bank, and the National Institutes of Health.
Kurt Schobel, Assistant Professor from Royal Military College of Canada, commented "[The conference] was a tremendous opportunity to collaborate with non-profit and government organizations about the benefits of a well-founded strategy."
Social service participants included Rare, the Calvert Foundation, Goodwill Industries, the Citi Performing Arts Center, the University of Leeds, Duke Children's Hospital, DC Central Kitchen, Project Management Institute, CFA Institute, the Deaconess Foundation, and the Public Health Foundation.
Gretchen Evans, from Goodwill Industries, said "The applicability of the Balanced Scorecard to the nonprofit world (is) very valuable," and Barbara Higgins, from CFA Institute, raved "I left the conference energized and enthusiastic for the challenge of strategy."
The conference was organized around three themes: Strategic Planning and Operational Execution, Organizational Alignment, and Linking Strategy and Operations. Throughout the conference, participants shared insights and experience on how they used the Balanced Scorecard to align and link their organizations to drive success.
Throughout the conference, Dr. Kaplan (the author or co-author of more than 14 books and 18 Harvard Business Review articles) reflected on the unique challenges of leading organizations that are not motivated by a simple profit measure. With fewer ways to influence behavior and much more complex stakeholder relationships, the need for strategy execution is even more profound.
Commenting on his participation in this event, Dr. Kaplan said, "The need for performance management in nonprofit enterprises and government agencies has never been greater. I was inspired to learn how the participants at the conference were creating new performance capabilities and results for their constituents and citizens. I was particularly impressed to see how organizations small and large have used the Balanced Scorecard to drive transformational change in their organizations."
Laura M. Downing, master of ceremonies for the event and founder of Ascendant, commented, "This event was the first convening exclusively dedicated to helping mission-focused organizations implement performance management and execute strategy. By every measure, the event exceeded our expectations, and we are very excited to see how the public and social sectors continue to rise to the challenge."
To learn more about the Mission Driven Performance Summit, please contact Laura Downing at ldowning@ascendantsmg.com or call (617) 379-0918.
About Ascendant Strategy Management Group:
Ascendant Strategy Management Group helps nonprofits, agencies, associations, and foundations manage strategy, collaborate with stakeholders, and build communities around their strategy execution efforts. We offer Balanced Scorecard and performance management training, facilitation, and consulting to help organizations accelerate mission results.
About Global Strategic Management Institute:
The Global Strategic Management Institute (GSMI) is the leading authority on performance based management practices and modern management theory. Focused on educating today's leaders for tomorrow's performance, GSMI disseminates the latest innovations in management by studying and identifying "best-in-class" organizations.
###