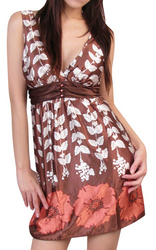 City of Industry, CA (PRWEB) March 12, 2009
Bright colours are generally warmer and more pleasing to the eye. Experimenting with a variety of tones shows a risky side, but also projects a playful and cheerful disposition. Thus, accessorizing with vivid colours is often a pleasant experience, both for the trendy gal sporting the look as well as for the looker spotting the eye-catching pieces and women's shoes.
MakeMeChic.Com is every woman's partner in the search for the perfect women's shoes, accessories, clothes, and even lingerie. With the commitment to dress women up fashionably from head to toe without burning wholes in women's pockets, the online retailer of women's shoes constantly updates its vast selection of women's shoes, accessories, clothes and handbags that are certainly the best in styles when it comes to women's shoes. Guaranteeing to have the lowest prices of women' shoes, clothes, accessories and handbags in the market, Make Me Chic only wants the best for its clients when it comes to fashion and style of women's shoes.
This season, women's shoes authority MakeMeChic.Com wants to make the world a brighter place by offering fashionable ladies a free bangle for every apparel purchase worth $9.99 and above. Dazzling bangles worth $5.00 are automatically shipped with orders, with one free gift per order based on a random selection. Indulge in cute plaid mini-dresses in shades of purple, turquoise, and fuchsia. Cheerful prints are in this season and this gives every fashionista the perfect excuse to be pampered with floral tunics sporting the colors yellow, black, as well as in red, blue and brown. Furthermore, bring out that playful side with blouses embellished with ruffles in a variety of styles such as tunics and bubble dresses. Pair these trendy clothes with stylish women's shoes like gladiator heels, wedges, platforms and espadrille sandals. This irresistible promo is valid only from March 9 - March 17, 2009, 11:59pm PST.
Topping it off is a free ground shipping for all domestic orders of women's shoes and apparel worth $50.00 and above. Simply enter coupon code "SHIP50" upon checkout to avail of this exciting offer. Sign up with the company's mailing list to be constantly updated on the most fashionable styles the women's shoes specialist has to offer. Because Make Me Chic understands that fashion doesn't have to be expensive, ladies are assured of the trendiest and hippest styles when it comes to women's shoes, accessories, clothes and costumes without costing much.
About MakeMeChic.com
MakeMeChic.com is every woman's partner when it comes to fashionable finds. Based in the City of Industry, CA, MakeMeChic.com is an online store that specializes in trendy women's shoes and apparel. With over 50 latest styles arriving weekly, a woman will never be out of style.
# # #