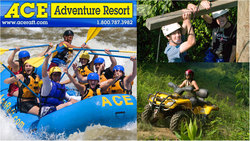 A growing number of people are spending more and more time online, interacting with each other
Oak Hill, W.Va. (Vocus) March 12, 2009
When Jerry Cook got into the rafting business, it was an intentional effort to steer clear of the corporate world. And as 30 years passed in the outdoor adventure business, Cook and other outfitters like him shunned much of the technology world. Until now.
ACE Adventure Resort, of which Cook is president, launched its own ACE Adventure Blog this week, joining a select number of rafting providers making a splash online in order to get Americans outdoors.
"A growing number of people are spending more and more time online, interacting with each other," Cook said. "We're trying to take part in that conversation while offering our two cents about the value and quality of the outdoor experience here in West Virginia."
Whitewater rafting guides are typically gifted entertainers and storytellers, Cook added. So it wasn't difficult to put together a cadre of staff members to take on the blog project. The ACE blogging team includes staff members from the reservations department, accounting, mountain biking and management, in addition to the talkative river guides.
Cook said the ACE bloggers will help spread the word about more than whitewater: New River Gorge history, birding and wildlife, ATV off-roading and profiles of intriguing staff members will all be featured in the blog.
"We're really looking at it as another venue for guest comments and feedback," Cook said. "We count on our guests to let us know how to serve them better. In the past, we've created entirely new products based on guest requests."
Steve Markle said his employer, OARS, began a blog a little over a year ago. OARS, based in California, takes guests on river trips around the world. Markle said the company debated back and forth about whether jumping on the blog trend would be beneficial or worth the resources needed to start and maintain it.
Markle said the benefit of a company blog for customers is in the dialogue and up-to-date information. He said guests post their own videos to the blog, keep up relationships with guides and, in general, can take part in a two-way conversation.
"Ultimately, all our concerns were overstated," Markle said. "It's amazing how interactive it immediately became."
Cook said ACE Adventure Resort is using other high-tech tools to further encourage potential guests to get outdoors. The outfitter invested considerable resources in high definition video that has been distributed online, and a re-designed website which offers the video as well as a live chat function to speak to reservations staff. Investments in technological outreach will continue this year with more video of customers and use of social media platforms.
###