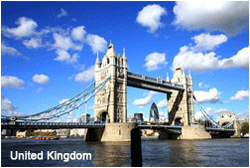 Alahambra, CA (PRWEB) March 12, 2009
The United Kingdom is a nation famous for a number of reasons. Firstly, it is one of the last surviving nations governed by a monarch, currently ruled by Her Majesty Queen Elizabeth II and will be succeeded by His Royal Highness Prince Charles. Secondly, UK is also home to famous sports such as football and rugby. Thirdly, this nation of four countries (England, Northern Ireland, Scotland and Wales) gave birth to such talented people as William Shakespeare, Jane Austen, Charles Dickens in the world of literature; The Beatles, Queen, The Rolling Stones in the world of music; and Francis Bacon, Sir Alexander Fleming, and Sir Isaac Newton in the world of science. These are just a few reasons the United Kingdom is an interesting country that many tourists are dying to visit this nation.
Fortunately, for the wanderlusts planning to take a trip to the United Kingdom, online China tour expert introduces the most affordable UK travel deals with their 9-Day Best of UK package. For only USD 1,299, travellers can now witness the spectacular sites in the United Kingdom. RitzTours.Com, a leading China tour travel authority, offers the Best of UK program inclusive of accommodations in four-star hotels, air-conditioned motor coach transportation, meals and entertainment, as well as the services of knowledgeable tour guides. Based on a double occupancy, ticket prices are available only on departure dates of April 25 and May 16, 2009.
The exciting 9-day Best of UK package allows travellers to witness scenic spots such as the Tower of London, Big Ben, Westminster Abbey and Buckingham Palace. Tourists will also enjoy the wonderful cities and towns of Cambridge, York, Oxford, and Edinburgh, where the famous Edinburgh Castle is located. Ending the 9-day travel vacation is a trip to the intriguing Stonehenge, a stone circle built over 5,000 years ago by the pre-Indo-Europeans of the British Isles.
RitzTours.Com also offers budget friendly China tour, Indochina excursions, as well as Bangkok and Hongkong travel deals. With the most affordable all-inclusive vacation packages available in the market, rest assured that RitzTours.Com only cares for the enjoyment of tourists. Vacations are supposed to be memorable, and China tour travel expert RitzTours.Com makes sure that this happens.
About Ritz Tours:
Ritz Tours is an industry leader in providing the most memorable China tour and other Asia tours at the best prices. A member of highly respected and recognized travel associations, Ritz Tours is a proud member of the U.S Tour Operators Association (USTOA), Pacific Asia Travel Association (PATA), American Society of Travel Agents (ASTA) as well as the International Airlines Travel Agents Network (IATAN).
###