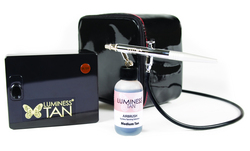 New York, NY (PRWEB) March 13, 2009
Just in time for summer 2009, Luminess® Tan is the first safe and effective FDA-approved at-home airbrush tanning system designed to offer professional high-end results at a fraction of the cost. Women and men can now achieve a golden-brown beautiful beach tan in minutes in the convenience and privacy of their own home. This sunless tanning system comes complete with everything needed for a radiant healthy glow and leaves no orange discoloration on the skin while lasting up to 14 days.
Using a precision stylus instrument a little larger than the size of a pen that allows for a smooth, flawless application, Luminess Tan airbrush tanning is not a dye. The primary ingredient in the tanning solution works with the amino acids in the top layer of the skin to produce a natural tan exactly like the sun, but without damaging the skin.
Compared to misting booths, which provide no control over or streaky self-tanners, Luminess Tan is accurate, streak-free and a great time saving and cost effective at home professional system that is simple and easy-to-use.
Luminess Air®
Luminess Tan is created by the company that brought consumers the first professional based airbrush makeup system. Luminess Air® airbrush systems feature a highly precise airbrush stylus, air compressor and makeup. Luminess Air broke the price barrier by introducing everyone to airbrush cosmetics at about 1/6th the cost starting at $229.00 for the Basic BC-100 airbrush system. A favorite of Emmy award-winning celebrity makeup artists for popular television shows like ABC's Desperate Housewives, Dancing with the Stars, Lost and The View as well as American Idol on FOX TV and CSI on CBS. Luminess Air is also used on most ABC and CBS morning, afternoon and evening news programs.
More recently airbrush makeup has become the standard with the advent of High Definition TV. HDTV is so incredibly sharp that wrinkles, laugh lines and even brush strokes from conventional makeup show up on television. Naturally, airbrush cosmetics came to the rescue as the results of airbrush makeup look like natural, flawless skin and not like "caked-on" - "baked-on" makeup that was the result of powders/minerals and conventional liquid makeup systems. Luminess Air airbrush foundations come in 4 great shade groups and a total of 11 foundation shades. Women can blend airbrush shades easily by mixing and matching shades.
Luminess Air was developed by leading makeup artists from the fashion, print, television and film industries along with leading cosmetic chemists and colorists. Celebrity makeup artists who use Luminess Air include Emmy award-winning John Elliot, three Time Academy award-winning Ve Neils, award-winning Sharon Gault, Emmy award-winning Rebecca Borman and the award-winning makeup artist Kathleen Karridene.
Luminess Air formulators and cosmetics designers have a minimum of 15 to 30 years of experience in the cosmetics industry and have directed the research and development departments of some of the leading cosmetics brands in the country. Their formulations are rated among the best makeup in terms of quality, result and design. Luminess Air never tests products on animals. Constantly working on the next generation innovation to revolutionize cosmetics, the company believes in making cosmetics as simple, holistic, organic and natural as possible. Today, Luminess Air is the leader in airbrush cosmetics with the most advanced airbrush cosmetic formulations and airbrush design. Once only available to celebrity makeup artists for editorial, television, film and red carpet events, Luminess Air is now available for everyone.
Luminess Air and its founders have a strong sense of responsibility and giving back to communities, organizations and causes that help those in need. Luminess Air strongly supports UNICEF and other children's causes along with various breast cancer and women's health causes. Visit http://www.luminessair.com.
MJMPR
Madeline Johnson Marketing & Public Relations are specialists in building brands, educating consumers and driving sales. MJMPR has gained a stellar reputation for strategic thinking, creativity and expert media relations along with a ground-breaking approach to public relations and integrated marketing. Offering top line tactics for results-oriented marketing and publicity based on our client's goals, objectives and budgets, Madeline Johnson and her brilliant marketing and public relations team have skillfully guided clients to stronger positions of positive public and industry perception through impressive media influence. Always exploring new, innovative ways to amplify our client's message, while in the best environment for mutual benefit, Madeline Johnson Marketing & Public Relations strives to fully leverage the ever expanding universe of new media options, marketing channels and technology innovations that have forever changed the practice of marketing.
###