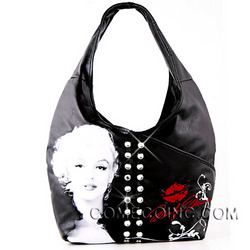 Something's Got To Give
Baldwin Park, CA (PRWEB) March 12, 2009
With hit movies such as "Some Like It Hot", "Something's Got To Give", and "The Seven Year Itch" under her belt, Marilyn Monroe became one of the most celebrated actresses of all time. Constantly portraying a tragic dumb blonde, this did not stop her millions of fans to worship and adore her. Though going through a number of failed marriages and numerous controversies, the most delectable sex symbol of all time managed to capture the hearts of her audiences, with admiration and love passing on from one generation to the next.
This spring, ComecoInc.com, one of the leading wholesale handbags specialists, offers the goddess's millions of fans to be a part of her immortalization through captivating her glamour with trendy wholesale handbags, chic sunglasses, alluring belt buckles and a whole lot more fab accessories. Wholesale handbags in a variety of styles such as vinyl bags, tote bags, shoulder bags, hobo bags and messenger bags are are available. Fashionistas should check out the limitless designs of wholesale handbags ComecoInc.com offers.
ComecoInc.com, with its vast collection of licensed wholesale handbags, offers wholesale handbags, belts, MP3 players, purses for as low as $2.00 in retail prices. The wholesale handbags manufacturer understands that fashion need not be expensive. With the legendary Marilyn Monroe glamorized in fashionable wholesale handbags, chic purses and other voguish accessories, millions of fans around the globe can now carry the a symbol of the ultra-chic but classy American icon everywhere, a feat that will surely be the envy of many.
A combination of seduction, talent and humor is what placed Marilyn Monroe on the Hollywood map. The ultimately sweet voice, mesmerizing screen presence and irresistible charisma made her a legendary pop icon, to be idolized from generations past to generations present. Relive the American icon with wholesale handbags, purses, belts and other chic accessories that ultimately epitomizes the glamour of the timeless Hollywood legend.
About ComecoInc.com
ComecoInc.com is one of the leading online manufacturers of wholesale handbags, wholesale sunglasses, wholesale belts, and wholesale accessories. Comecoinc.com is also an official licensee of GM, Coca-Cola Corporation, CMG Worldwide (for Marilyn Monroe), Elvis Presley Enterprises, and USPS. With an in-house special design team, wholesale handbags are guaranteed to be the latest and hottest in fashion.
###