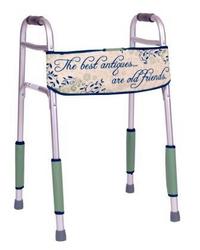 Medical walkers often look quite plain, even dreary. WalkerWonder banners transform the merely functional into the truly unique
Boulder, CO (PRWEB) March 12, 2009
American product-maker WalkerWonder today announced the nationwide launch of an extensive new line of patent-pending decorative banners for medical walkers and rollators.
"Medical walkers often look quite plain, even dreary. WalkerWonder banners transform the merely functional into the truly unique" said company spokesperson Kathleen Kneeland. WalkerWonder walker accessories include colorful banners with coordinating bumpers designed around themes such as family, friendship, faith, and birthday or holiday celebration. Many of the banners can be customized and given as personalized gifts.
Asked about the company's optimism for the new walker banners amid current economic conditions and soft retail sales, Kneeland replied: "These walker accessories affirm the courage, determination and optimism that mobility-challenged Americans display every day. This spirit reflects America's heart in difficult times."
Kneeland noted that consumer interest in the walker banners has been especially strong as gift ideas for seniors. She added: "When people have economic stress, they turn to family and friends. WalkerWonder banners say thanks to grandpa or grandma. They express love and admiration, just for the commitment to 'keep going' despite physical and mobility challenges. These kinds of bedrock values - courage, love, gratitude - are vital to help overcome our current challenges."
About WalkerWonder
WalkerWonder, located in Boulder, Colorado, designs and manufactures a broad line of innovative, patent-pending walker accessory sets. Colorful banners are paired with coordinating bumpers to bring life to medical walkers and rollators. All banners have convenience pockets and many may be personalized. All products are made of highest-quality materials and are 100% designed and manufactured in the USA.
Brighten a Walker, Brighten a Life.
###