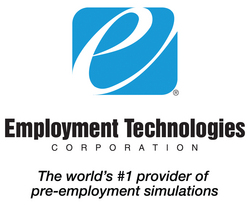 With EASy Simulations®, Employment Technologies pioneered and introduced the use of simulation to pre-employment testing. Now we are introducing our EASy Simulation technology to employment interviews
Winter Park, Florida (PRWEB) March 12, 2009
Employment Technologies, the world's leading provider of simulation-based pre-employment software, today announced that the pre-release version of EASyView™ Virtual Interview System is now available to selected customers. Scheduled for full market release in April, EASyView Virtual Interview System gives employers an effective and convenient tool for reducing costs while improving the efficiency and accuracy of the interview process.
"The job interview is the most common and accepted method for hiring, yet it is susceptible to the greatest bias and subjectivity. By blending simulation into the interview, EASyView addresses many of the most significant costs and weaknesses of employment interviewing," explains Joseph Sefcik, Employment Technologies president and CEO.
Specifically, EASyView provides seven key improvements in interview technology:

Automated virtual interviews worldwide, 24/7
Audio recording of candidate responses in their own words and voice
Ability to share interviews online with key decision makers
Standardization to ensure consistency and eliminate common rating errors
Real time access to comprehensive results and reporting
Automated activity management and tracking
Multiple language functionality
EASyView seamlessly combines all of the tools employers and recruiters need to effectively screen more candidates in less time and to manage their entire interview process with one easy-to-use system. With EASyView, applicants can interview 24/7 from anywhere in the world, eliminating scheduling hassles and expanding employers' reach to quality candidates. To complete an EASyView interview, applicants need only Internet access and a telephone.
EASyView offers clients a range of features and is fully scaleable to their needs. There is no software to install and no special equipment is needed.
"With EASy Simulations®, Employment Technologies pioneered and introduced the use of simulation to pre-employment testing. Now we are introducing our EASy Simulation technology to employment interviews," says Sefcik. "By blending our expertise in simulation and hiring, we have revolutionized the interview. EASyView reduces costs, increases accuracy, and improves access and delivery. That's what is so exciting about Employment Technologies' business, and we are thrilled with client reactions to EASyView."
For more information about the EASyView Virtual Interview System, visit http://www.etc-easy.com/_products/easyview/index.htm or call 877.212.1012.
About Employment Technologies:
Employment Technologies is the world's #1 provider of pre-employment simulations. Nationally recognized for its brand products, EASy Simulations, Employment Technologies leads the industry in innovation, accuracy, reliability, and value. EASy Simulations are proven to increase hiring accuracy, reduce hiring time and costs, decrease employee turnover, and improve bottom-line results. For more information, visit http://www.etc-easy.com or call 877.212.1012.
###