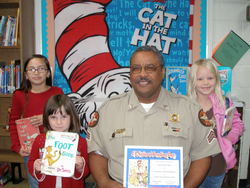 Eugene, OR (Vocus) March 12, 2009
Monday, March 2nd marked the first annual National Reading Day for schools nationwide and JP Associates, Inc., an education consulting/school improvement firm who partners with schools across the nation. The Reading Day was held at the same time as the National Education Association's familiar "Read Across America" that has local celebrities and elected officials reading to students. JP's Reading Day included a twist – students reading to the adults. Prominent guests from local communities were invited into the schools to participate in the reading day and were treated to stories being read to them by various students showing off their skills.
In Arkansas, Portland Elementary School first graders impressed the City Clerk, Kathy Coulter, with stories from their Accelerated Reader books. Also in Arkansas, Lakeside Lower Elementary School celebrated their accomplished readers with two prominent guests, Mayor JoAnne Bush and City Council member Linda Haddock.
In Georgia, Toombs County Schools students participated in the Reading Day, with Toombs Central Elementary students welcoming Deputy Bobby Smith into the school. Appling Primary and Appling County Special Education students kept Mayor Steve Rigdon busy listening to Dr. Seuss stories. Also in Toombs County, students at both Lyons Primary and Lyons Upper Elementary participated by reading to Mayor John Moore.
Three schools in Buffalo, New York took part in the reading day festivities, all with notable members of the Mayor's Office. Futures Academy students read to Deputy Mayor Donna Brown. Herman Badillo Bilingual Academy entertained the Director of Citizen Services, Oswaldo Mestre, with two Dr. Seuss books and two Spanish books. West Hertel Academy read to the Director of Youth Services, Otis Barker, who was impressed with how well the students were able to read, particularly the kindergarten and first grade children.
Carl G. Lauro Elementary School in Providence, Rhode Island was forced to postpone their observance of Reading Day due to the surprise snowstorm that covered the region the night before – closing all Providence Schools on Monday. However, Mayor David N. Cicilline, who was scheduled to come into the school, will be going to Carl G. Lauro to listen to the students read on the rescheduled date of Friday, March 13th.
JP's First Annual National Reading Day kicked off the 20th Anniversary Celebration for JP, a pioneering company that provides professional development for schools and districts across the nation and around the world. Schools partnering with JP implement research-based instruction and participate in rigorous on-going staff development on effective educational models.
About JP Associates:
In 1989, drawing on her expertise and experience in education, founder and president Jane Feinberg created JP, a teacher/student friendly consulting company that is currently the largest professional development company supporting Direct Instruction and other research-based literacy curricula in the country. Several of JP's participating schools have received national recognition for exemplary student performance. JP anticipates an even bigger National Reading Day next year.
###