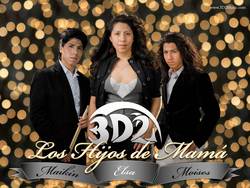 Dónde Está?
New York, NY (PRWEB) March 12, 2009
She survived a perilous accident that left her in a coma, almost two months of intensive care, two years of physical therapy and now Elsa is returning to the stage with the band 3D2 to release their second album, "Los Hijos de Mamá", which has already reinvented Latin music.
This Ecuadorian group has enjoyed an enormous success in New York City that has not been seen before with any other South American band. All three of them are siblings and play a new musical style called "Caribbean Pop."
The song "El Gran Bailador" is now being played continuously in many Northeast radio stations in the USA, particularly in WSKQ-Mega 97.9 and WCAA-La Kalle 105.9 GM, two of the biggest radio stations in the state of New York. Furthermore, the sheer energy and rhythm of "El Gran Bailador" makes it a club favorite as everyone dances to it.
"Los Hijos de Mamá" contains 18 original tracks released under the umbrella of Weras Records, of the young entrepreneur Wilson Rivas, who decided to record this album in Mexico on late 2008. This is an album with various different rhythms and styles blended together; among the songs included are the danceable "Te Voy A Recordar" and "Yo Valgo Mas", the rocking tunes "Resulta" and "Pura Suerte", the poetic ballads "Que Si, Que No" and the highly versatile tune "Dónde Está?". On the other hand, "El Gran Bailador" is a cumbia infused with other beats, creating an electrifying song that has become a fan favorite.
"We are very happy with the support that people have given us in New York, Miami, Chicago, Boston, Providence, New Jersey, Philadelphia and Washington", said Elsa, 3D2's lead vocalist.
"We are well prepared and ready to please our North American fans, as well as the rest of the world", added the singer who resides in New York City.
Conversely, the album's main producer, Wilson Rivas, explained that 3D2 has already shot music videos for the songs "Dónde Está?", "Te Voy A Recordar", "Yo Valgo Mås", "Resulta" and the successful single "El Gran Bailador". All of them can be checked out at WerasMusic.com
"These videos were produced in the USA under the direction of Maikin, the band's drummer, who also happens to be an avid film fanatic", said the producer.
3D2 has appeared in several international festivals and TV stations across the Northeast USA, and soon the band will embark on a promotional tour to Miami, only to later travel to México, where another vast promotional tour awaits them to support their new musical offering, "Los Hijos de Mamá".
But for now 3D2 will remain in New York as they get prepared to play several shows in the area, including a very special and grand event for the press and fan club at the Latin Quarters Club (511 Lexington Avenue, New York, NY 10017) on April 2nd, 2009.
Wilson Rivas further added that the band was set to take part in massive international events such as the Premios Latinos (Latin Awards) on October 22nd, the 5 de Mayo Festival, La Fiesta del Sol (The Sun Party) and a tribute to "The Song Prince", José José, among other activities.
The band made their debut in the year 2000 with Weras Records, the record label that also released their very first album, "Cansado De Ser Feliz", which consists of twelve tracks, including the hit single "Mal Hombre".
Maikin is 3D2's drummer and music video director. Elsa is the lead singer and piano player. Moises plays the guitar and is also an enthusiastic photographer.
For more information about this promising band, go to:
http://www.WerasMusic.com WerasMusic or http://www.3D2Music.com
3D2Music
###