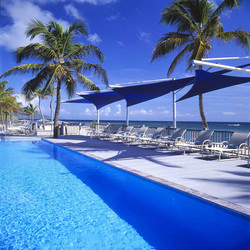 Nisbet First Annual March Madness Cinderella Hoopla Contest
Nevis, West Indies (PRWEB) March 12, 2009
With the selection just days away and entries pouring in, the excitement keeps mounting on who will correctly predict the Cinderella teams and be chosen to win in the "Nisbet First Annual March Madness Cinderella Hoopla Contest."
The Cinderella of the Caribbean, Nisbet Plantation Beach Club has risen from being an old sugar plantation to the Caribbean's best resort, according to TripAdvisor in 2008. To celebrate its Cinderella status, The "Nisbet First Annual March Madness Cinderella Hoopla Contest" asks fans to select the 2009 NCAA basketball teams they think will be named the Cinderella teams in this year's tournaments. Nisbet will draw two winners -- one each from those who correctly guess this year's women's and men's Cinderella teams -- to receive a five-night stay for two.
"March Madness is one of the most anticipated and intense sporting events of the year," said Jamie Holmes, Nisbet general manager. "So, this year, we thought it would be nice to offer two lucky winners a chance to relax and unwind and enjoy Nisbet's peaceful setting. Following March Madness, it's a Cinderella ending to this year's tournament for two lucky fans."
Entries must be received before next Tuesday, March 17, 2009 -- when the NCAA Basketball Championship tips off. One entry per email address will be valid. Winners will be announced by April 15.
For complete rules and directions to enter, visit http://nisbet.luxuryhotelwebhosting.com/.
In addition to the contest winners, Nisbet has offered a free vacation to each of the women's and men's Cinderella teams' coaches. Bob McKillop of Davidson chose Nisbet for his R&R after the season in 2008. So, Nisbet decided to extend an invitation to this year's Cinderella coaches, as well.
Meantime, for those who want to visit now, Nisbet also offers a March Madness special where guests who stay six nights receive a seventh night free. See the Web site for details: http://www.nisbetplantation.com/worxcms_published/offer58.shtml
About Nisbet Plantation
Nisbet Plantation Beach Club is the Caribbean's only deluxe plantation inn located directly on the beach. It is also one of the Caribbean's historic sugar plantations and the ancestral home of Fanny Nisbet, the loving and ever-faithful wife of Britain's most famous naval hero -- Lord Admiral Horatio Nelson.
The plantation's beautifully-restored Great House, which dates from 1778, and 36 charming cottages all with modern conveniences are set in 30 acres of tropical foliage.
Nisbet Plantation was named the Best in Service in the Caribbean on the Condé Nast Traveler 2009 Gold List. Also, Nisbet was ranked the #1 Luxury Resort in the Caribbean and Latin America and #6 in the World in the 2008 TripAdvisor Travelers' Choice Awards. Condé Nast Traveler readers rank Nisbet number #8 of all Caribbean resorts. From AAA, Nisbet has garnered two 4-Diamond Awards -- one for the hotel and one for the Great House dining room -- one of only three air-conditioned dining venues on Nevis. If customer satisfaction is the key measure of the quality experience a guest receives, then it is important to note that Nisbet Plantation is one of the Top 10 Caribbean hotels based on reviews posted on TripAdvisor.com and one of only a handful of hotels to receive a perfect 5.0 Rating.
About Nevis
This 36-square-mile Caribbean island lies near the top of the Lesser Antilles archipelago, about 200 miles south of Puerto Rico, and just west of Antigua. This island jewel is approximately 7 miles long and 5 miles wide, with natural vegetation that is unparalleled. Nevis is one of the remaining unspoiled places on earth. From the top of the 3,232-foot Nevis Peak created by the only shield volcano in the Caribbean, to the depths of the clear waters offshore, there is a world of flora and fauna to be explored.
###