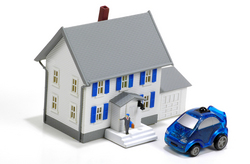 Cardiff (PRWEB) March 13, 2009
Confused.com, the UK's leading price comparison service, is delighted to welcome back M&S to its already comprehensive list of providers for home insurance.
M&S took a brief sabbatical from the panel, while switching underwriters from Aviva to Axa, but are now live on the Confused.com website, cementing Confused.com's position as having the best home insurance market coverage.
Peter Ablett, commercial director of Confused.com, said:
"The return of M&S to our site is wonderful news and will strengthen our ability to get customers the best policies at the right prices, with the largest panel of providers in the market today.
"We are committed to constantly reviewing our panel to make sure we are covering the best range of products, so customers need not go elsewhere. With a typical visitor to the site saving £185* on their house insurance, shopping around has never been so important."
For further information please contact:
Press office, Confused.com. 02920 434 398
Joanna Harte/ Gug Kyriacou, Polhill Communications. 020 7655 0550
Notes to editors
About Confused.com:
Confused.com is one of the UK's biggest and most popular price comparison services. Launched in 2002, it generates over one million quotes per month. It has expanded its range of comparison products over the last couple of years to include car insurance, home insurance, travel insurance, pet insurance, van insurance, motorbike insurance, breakdown cover and energy, as well as financial services products including credit cards, loans, mortgages and life insurance.
Confused.com has a panel of 60 home insurance providers - its typical customer saves £185.25* on their annual home insurance policy.
Confused.com is not a supplier, insurance company or broker. It provides a free, objective and unbiased comparison service. By using cutting-edge technology, it has developed a series of intelligent web-based solutions that evaluate a number of risk factors to help customers with their decision-making, subsequently finding them great deals on a wide-range of insurance products, financial services, utilities and more. Confused.com's service is based on the most up-to-date information provided by UK suppliers and industry regulators.
Confused.com is owned by the Admiral Group plc. Admiral listed on the London Stock Exchange in September 2004. Confused.com is regulated by the FSA.

Based on the average customer savings made in 2008
###