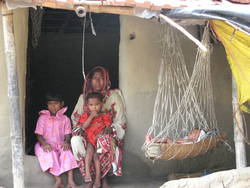 Calcutta, India (Vocus) March 12, 2009
The 2009 Best Picture 'Slumdog Millionaire' shines the global spotlight on the crushing poverty present in India. Children International answers that call by opening a new community center to help poor children in Calcutta.
The U.S.-based humanitarian organization opened its third community center in Calcutta with a ribbon-cutting ceremony to inaugurate the new center which includes the John Liechty Library and Study Center and the Doshi Family and Friends Medical Clinic. The community center, which will serve 5,000 children living in crushing poverty, also houses a medical clinic, dental clinic, pharmacy, and meeting space where children and their families supported by Children International will go for regular care.
The Doshi Family and Friends is a group of Children International donors concerned with the well-being of children spearheaded by Bob and Rita Doshi. Sally and Dick Roberts Coyote Foundation honored their friend, John Liechty, by providing educational support to children in Calcutta.
President and CEO Jim Cook, who was present for the event, said, "This center will not only be a place of hope, but will also be the heart of the community for some of the most overcrowded and impoverished people in the world. Thanks to the generosity of people like the Doshis and the Roberts, children living in devastating circumstances now have hope for a brighter future."
Children International provided support for over 24,000 children in India alone in 2008. The charity has been active in India since 1989.
To learn more about Children International's work in India, visit Where We Work. To learn about sponsoring a child in India, visit http://www.children.org.
About Children International:
Established in 1936, Children International is a nonprofit organization with its headquarters in Kansas City, Missouri. Children International's sponsorship program benefits over 330,000 children around the world in 11 countries including Chile, Colombia, the Dominican Republic, Ecuador, Guatemala, Honduras, India, Mexico, the Philippines, Zambia and the United States. For more information about Children International, visit http://www.children.org.
For more information:
Dolores Quinn Kitchin
Public Relations
Children International
Page: (816) 942-2000
Cell: (816) 718-0711
###