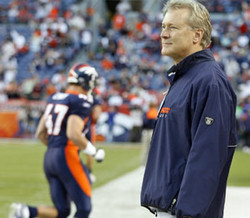 Denver, CO (PRWEB) March 14, 2009
Dr. William Hines, trusted Lasik Surgeon in Denver, Colorado and the official team eye doctor for the Denver Broncos, has recently performed Lasik on Michael Pittman, a Denver Broncos' running back, with an excellent outcome of 20/20. As a professional athlete, Michael Pittman relies on superb vision for top performance for his livelihood. Choosing the best and most trusted Lasik Surgeon in Denver was imperative.
"Michael Pittman was an excellent candidate for Lasik Surgery and we were confident that he would have an excellent outcome. Everyone seeking Lasik in Denver at Hines-Sight is evaluated and is determined for suitability. Not all should have Lasik. At Hines-Sight, each patient is treated like a professional athlete," states Dr. Bill Hines.
The VISX Star S4 IR excimer laser with Variable Spot Scanning (VSS) and Variable Repetition Rate (VRR) was used to provide Michael's Advanced CustomVue laser vision correction in less than 15 minutes. The improvement in his vision was immediately apparent, being able to see the small clock on the wall as he arose from the operating chair.
As with virtually all Lasik patients, Michael experienced no discomfort during and after the procedure. The following day he was able to drive himself to the follow up appointment where he exhibited 20/20 vision.
As team eye doctor for the Denver Broncos and the Colorado Crush, Dr. Hines provides eye care and laser vision correction for Colorado football fans' favorite teams. In the world of professional sports, athletes trust their vision to only the best doctor. Hines-Sight has performed Lasik on professional athletes from all over the world. For additional information, please contact Ann Hines or visit http://www.hines-sight.com.
###