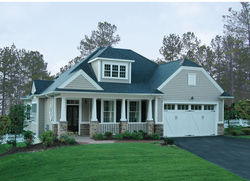 In a very slow economy, consumer confidence is a big issue
Beacon Falls, CT (PRWEB) March 13, 2009
Wyndham Homes, a developer of residential communities in Westchester County, New York and New Haven County, Connecticut, was selected by the Home Builders Association of CT to receive a top HOBI award, Best 55+ Community, for Chatfield Farms.
Each year, the prestigious HOBI Awards program recognizes outstanding construction technology, innovation, and sales success in the Connecticut home building industry. Chatfield Farms was chosen from more than 200 state wide entries and won the highest award as 2008 Community of the Year and Best 55+ Community.
According to Home Builders Association CEO William H. Ethier, "We were impressed with Wyndham Homes' trademark Flexibuild System which offers Chatfield Farms homebuyers extraordinary choice to customize the exterior and interior of their homes. Unlike any other builder, Wyndham offers a Flexibuild Allowance, which is included in the sales price, and can be used for whatever exterior and interior homes features a buyer wants to choose."
Another factor that influenced award judges was Wyndham Homes' sales success. In the midst of a severe economic slowdown, Wyndham Homes has outperformed the market. Since January 2007, active adults from Connecticut, New York and other states have purchased fifty-six homes at Chatfield Farms, and nine homes were purchased in the last three months. Sales prices start at $402,000.
"In a very slow economy, consumer confidence is a big issue," said Wyndham Homes Vice-President, Jay Metcalfe. "That is why we created a selling solution program called Home to Home, to help our buyers with the sale of their existing home. This program offers the immeasurable value of peace of mind."
In another move to instill confidence with their homebuyers, Wyndham broke ground last June on a 10,000 square foot clubhouse, The Fieldstone Club at Chatfield Farms, which just won a national Best of 50+ Housing Award for Best Clubhouse Design.
About Chatfield Farms
Chatfield Farms is a gated, resort style active adult community located off Skokorat Road in Beacon Falls, CT. In addition to an on site lake, picnic area and nature trails, activities include pickle ball, a book club, women's coffee club, a 7-up Club, and the Chatfield Fit Club. The Fieldstone Club will open this fall with a first of its kind dedicated aerobics room, as well as a spa room for massages, an indoor hot tub and a popular coffee bar, banquet and club rooms, a library and billiards room. Outdoor amenities include a patio with fire pit and barbecue bar, a pool with two lap lanes and tennis and bocce courts. For more information, please visit http://www.chatfieldfarms.net or call (203) 723-7366.
###