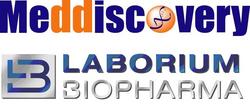 (PRWEB) March 14, 2009
Med Discovery SA, a specialized protein-based therapeutics oncology company, is proud to announce that they have extended their global partnership agreement with Laborium Biopharma, a subsidiary of Validapro BioSciences Inc. to encompass the cell culture process development and clinical manufacturing of all molecules under development at Med Discovery.
This strategic decision will allow Med Discovery SA to have priority access to Laborium Biopharma's clinical manufacturing capabilities and all related specialized services to ensure compliance of all its development projects to international regulations.
Dr. Deperthes President and CEO at Med Discovery S.A said: "In the upcoming months, Med Discovery will start the manufacturing of new biologics produced in mammalian cells. With this new extended agreement Med Discovery SA will accelerate the development of these innovative products allowing faster entry into pre-clinical and clinical phases. Validapro BioSciences Inc. will bring the operational flexibility and process development expertise to design value-added programs to meet Global cGMP expectations".
Luc Dubois President of Laborium Biopharma added: "In this difficult worldwide financial situation, such partnership agreement opens a new way to do business by sharing respective core competencies to reduce the risk associated with product development. That shall benefit both companies. Validapro BioSciences Inc. will be acting as the process development and clinical manufacturing arm allowing Med Discovery SA to focus at performing the R&D activities for those innovative compounds."
Med Discovery S.A. is a private biopharmaceutical company headquartered in Geneva, Switzerland focusing on treatments for uro-genital cancers. The company is dedicated to the discovery and the development of highly specific protein drugs based on the optimization of natural proteins involved in the regulation of biological pathways. The company is leveraging a strong in-house expertise combined with an international network in clinical urology.
Laborium Biopharma is a private corporation based in the Biotechnology Research Institute of the National Research Council Canada in Montreal, Quebec. This new company is dedicated to the development and optimization of bio-production processes and the cGMP manufacturing of clinical batches of high-potency products.
###