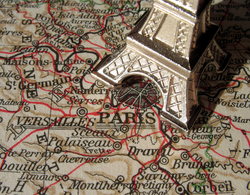 Cardiff, UK (PRWEB) March 15, 2009
With the Easter holidays approaching, many Brits are still considering heading off on a break, despite the recession*. Will Thomas, head of car insurance at Confused.com, reminds travellers that familiarising themselves with the different rules and regulations that are in place across the Channel, will enable them to stay on the right side of the law - even if they are not on the right side of the road:
Speeding and drink-driving: in recent years, more than 1,000 hidden speed cameras have been installed and police have stepped up random breath tests. The legal alcohol limit is 50mg in every 100ml of blood, compared to 80mg in the UK, and if drivers are found to be over the limit, they face either having their licences confiscated, or time in prison. Being caught speeding could result in a heavy on-the-spot fine.
Changing speed limits: one of the most common ways to fall foul of the law occurs when passing through a village on a fast country road; here, the speed limit can drop from 90kmh to 50kmh with only the sign showing the name of the village as warning.
Visibility accessories: with effect from July 1 2008, it became illegal not to carry a high-visibility vest as well as a warning triangle. The jacket needs to be worn by the driver when they get out of the car in the event of an accident or breakdown, and the triangle needs to be placed at least 30 metres from the vehicle. A failure to comply with these rules could result in an on the spot fine of between €90 and €135.
Inform insurance providers of foreign travel: it is important for international drivers to check their insurance to make sure they know exactly what assistance, if any, they will receive in the event of an accident abroad. Informing insurance providers of any planned trips will lead to customers getting the best guidelines on what to do if the worst happens.
Be in possession of a green card: having a green card; a motor insurance certificate universally accepted throughout a network of countries, is no longer a legal requirement for driving within the EU, but could be useful in proving cover. Drivers can request one from their insurance provider but must be aware that it is not insurance itself. The green card merely indicates that you have the minimum level of cover required to drive on European roads. Confused.com shows the green card details with all car insurance quotes, allowing customers to make an informed decision on the right cover for them. Most insurance providers can upgrade drivers to the same level of cover that they have in the UK, for an additional fee.
Consider international breakdown cover: while UK insurance is still valid within the EU in terms of fulfilling legal requirements to be on the road, international breakdown cover is something worth considering. Even if drivers have chosen to upgrade their insurance cover, in the event of cars breaking down, drivers could benefit from the roadside assistance, support from the helpline, and potentially have emergency repairs dealt with on the spot. The levels of cover will vary, so, once again, it will pay to shop around.

According to ABTA Holiday trends report 2009, 47% of British holidaymakers will not change their travel plans because of the recession.
For further information please contact:
Press office, Confused.com. 02920 434 398.
Joanna Harte/ Gug Kyriacou, Polhill Communications. 020 7655 0550.
Notes to editors
About Confused.com:
Confused.com is one of the UK's biggest and most popular price comparison services. Launched in 2002, it generates over one million quotes per month. It has expanded its range of comparison products over the last couple of years to include home insurance, travel insurance, pet insurance, van insurance, motorbike insurance, breakdown cover and energy, as well as financial services products including credit cards, loans, mortgages and life insurance.
Confused.com has a panel of 83 motor insurers, its typical customer saves up £206.16* on their annual car insurance policy.
Confused.com is not a supplier, insurance company or broker. It provides a free, objective and unbiased comparison service. By using cutting-edge technology, it has developed a series of intelligent web-based solutions that evaluate a number of risk factors to help customers with their decision-making, subsequently finding them great deals on a wide-range of insurance products, financial services, utilities and more. Confused.com's service is based on the most up-to-date information provided by UK suppliers and industry regulators.
Confused.com is owned by the Admiral Group plc. Admiral listed on the London Stock Exchange in September 2004. Confused.com is regulated by the FSA.
*Based on the average customer savings made in 2008
###