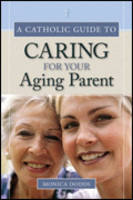 is a time of many grace-filled moments.
(Vocus) March 13, 2009
Monica Dodds understands the pressures that millions of Americans endure as they become caregivers to aging parents. Her professional work with the elderly has exposed her to the complex medical, financial, and legal problems that entangle the elderly. Her personal experience helping ailing family members has given her deep insight into the difficulties caregivers face in dealing with these problems. Her book, A Catholic Guide to Caring for Your Aging Parent, is a comprehensive and practical guide for caregivers.
Dodds insists that faith is a fundamental part of caregiving, and her approach is deeply rooted in Catholic spirituality. She shows adult children how they can love and serve their aging parents better by deepening their own spiritual lives. "Caregiving", she says, "is a time of many grace-filled moments." In fact, Dodds insists that faith is the most fundamental part of the caregiving process. Three extensive appendices provide comprehensive checklists for assessing needs, a compilation of resources, and an anthology of prayers.
Monica Dodds has worked with older people and their families in the Seattle area for many years. She has been a case manager for homebound elderly, a program coordinator for senior centers, and the manager of the Seattle/King County Meals on Wheels program. She and her husband, Bill, write a column on family life for the Catholic News Service and have written several books, including The Joy of Marriage. Monica Dodds is also the author of Praying in the Presence of Our Lord with St. Therese of Lisieux. Visit her website at http://www.YourAgingParent.com.
###