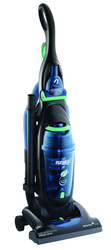 The Eureka envirovac is the ideal vacuum for consumers looking to reduce energy consumption without sacrificing performance and a clean home
Bloomington, Ill. (PRWEB) March 13, 2009
Just in time for Earth Day, consumers can brighten their eco-friendly cleaning routine with a new variety of envirovac colors from Eureka. The newest color of the "greener" cleaner, black with sea foam green accents, is one more way the design team at Eureka supports eco-conscious living and gives consumers an assortment of options in the effort to "go green."
Accompanying the new black model exclusively at Walmart and on walmart.com, are two limited-edition Earth Day models in hues of aqua and red. Inspired by natural tones, the three new colors complement any eco-activist's style as they work to reduce, recycle and reuse.
"The Eureka envirovac is the ideal vacuum for consumers looking to reduce energy consumption without sacrificing performance and a clean home," said Jackie Cooper, director of marketing and communications for Eureka. "It uses just 960 watts of energy an hour, as opposed to the 1,440 watts of energy used per hour by the standard upright vacuum, which means less energy is produced to run the vacuum and less harmful emissions are created."
Invented to help consumers decrease their impact on the earth, the Eureka envirovac is an eco-friendlier, full-sized upright that reduces energy consumption, comes with a reusable, washable hypoallergenic filter to lessen waste and utilizes 100 percent recycled cardboard packaging, making it easy to both go "greener" and stay cleaner on the home front.
Reduce. Created to save energy, envirovac's energy-saving 8-amp motor provides the same powerful cleaning results while using 33 percent less energy* than the standard 12-amp motor. The average American household vacuums about one hour per week using a 12-amp motor. If only a quarter of the 100 million households in the U.S. used envirovac, 6.25 million kilowatt hours of energy would be saved and the annual reduction in harmful CO2 emissions would be equivalent to keeping 855 cars off the road for a full year.**
Reuse. Eureka envirovac's washable hypoallergenic filter captures 99.97 percent of dust, allergens and small particles to help maintain a cleaner home. Consumers can wash and reuse the filter multiple times, for a more environmentally-friendly option that also is easy to maintain.
Recycle. Eureka's commitment to creating a "greener" vacuum goes beyond the unit itself - envirovac is packaged in 100 percent recycled, unbleached cardboard to further reduce its impact on the earth. These compact packages encase and protect the vacuum using eco-friendlier materials and are designed to maximize transportation efficiency.
Clean. Eureka knows that "green" cleaning should also be thorough cleaning. To help reach the dirt and crumbs that collect each week in hard-to-clean areas, envirovac features the exclusive Power Paw® with Riser Visor™ power brush - a unique tool designed with a flip-top hood that cleans vertically and horizontally to tackle stairs, upholstery and stubborn pet hair. In addition, envirovac features a bottom-empty dust cup for easy maintenance, an upholstery and dusting brush and an extra-long crevice tool and wand to reach dirt in corners, on furniture and along baseboards.
"By offering an excellent cleaning tool that uses less energy, envirovac is a simple way consumers can be 'greener' in their daily lives," said Cooper.
Eureka is proud to be part of the Electrolux Worldwide organization, which has a demonstrated history of commitment to environmentally, socially and ethically responsible business practices. Visit http://www.electrolux.com for more information.
Eureka's envirovac retails for $72.22 at Walmart and on walmart.com. For more information about Eureka products or Eureka's environmental efforts, consumers can visit http://www.eureka.com.
*A typical full-size upright uses 12 amps; envirovac™ uses 8 amps.
**See http://www.eureka.com for full calculations on the environmental impact.
All energy usage and emissions statistics gathered from EIA (2002)a. Annual Energy Review 2001. Energy Information Administration, U.S. Department of Energy.
About Electrolux Home Care Products, Inc.
Electrolux Home Care Products, Inc. (EHCP) leverages consumer driven insight to manufacture and market innovative floor care products under its well-known Eureka and Electrolux consumer brands. The company also sells high-quality commercial products under its Sanitaire brand name and central vacuums made by its Electrolux Central Vacuum Systems division (formerly known as Beam Industries). EHCP is based in Bloomington, Ill., and is a part of The Electrolux Group. Visit http://www.electroluxusa.com, http://www.eureka.com, http://www.sanitairevac.com or http://www.beamvac.com for more information.
###