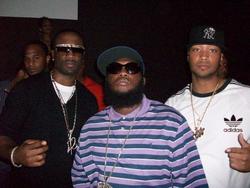 Jersey rap hasn't been on the industry radar since Joe Budden's Def Jam release, which ended up as just a single that got a lot of burn.
New York, NY (PRWEB) March 13, 2009
State Property members, Freeway and Omillio Sparks join forces with Wu-Tang's own Kinetic and Q-Parker of 112 in support of the debut LP "Prince of Jersey" by the Bayonne area artist Bizz. The most active State Property member, Freeway, has taken Bizz underneath his wing. The recording artist has made several public appearances in the last two months promoting the forthcoming release.
The album's lead single "Ringtone" is a track that Freeway is featured on and has performed in front of sold out crowds. Freeway and Bizz's most recent public appearance was February 28th at the South Beach nightspot SoBe Live. The pair performed together at the single release party that boasted attendance by Baby of Cash Money Millionaires, Q-Parker, and local Miami artist Cutta Man and ATP. An upcoming video shoot for the single is currently underway.
The album is slated for release in July through Bizz's label Blakglobe Records, via Colossal Entertainment & Koch Distribution. Q- Parker is featured on the album cut "In a Minute" that was leaked online this past December. The single was recapped as one of the top 20 singles to debut at the Fall Core DJ's Retreat. "Prince of Jersey" features production by former Wu-Tang producer, 4th Disciple, Bunnie Sigler, Saint Man, and Vodka. The album was executive produced by Rhasun Allah of Blakglobe Records and TriNet Entertainment Group.
In January, Bizz was invited to BET studios to be featured on the new show "The Deal" as a Certified Fresh artist. The Jersey native has the streets buzzing with his recent mixtape release "Holding Hip Hop Hostage", hosted by DJ Kay Slay. Bizz has also been featured on DJ Flipcyide's mixtape "Slept on Vol. 3" hosted by Paul Wall. Additional mixtape appearances include, "We Run NJ " featuring Joe Buddens, Sam Scarfo, Ransom, Big Lou and Serious Jones.
The self titled debut is anticipated to put Jersey Hip- Hop back on the map. Bizz says "Jersey rap hasn't been on the industry radar since Joe Budden's Def Jam release, which ended up as just a single that got a lot of burn." Bizz's Jersey sound has earned him street cred and recognition in this past November's issue of Hip Hop Weekly's Next to Blow section. Bizz has also been recognized by Scratch Magazine, Rap Fanatic, Hiphopgame.com, and more. In related news, RockMe TV's host Lenny S. sat down with Bizz in an interview about an alleged public beef with Bow Wow and demanded clarification on a freestyle that Bizz performed while at BET in December.
About Bizz:
Born in Jersey City, New Jersey and raised in Bayonne, Brandon "Bizz" Stokes signed to New Jersey record label, Blakglobe Records in 2005. In 2007, Blakglobe & TriNet Entertainment Group entered into a joint venture with Omillio Sparks' record label Colossal Entertainment to release the solo album debut "Prince of Jersey". Bizz was featured on the 2006 compilation album "Blaktrilogy" that was distributed to retailers throughout the northeast in Tower Records and mom and pop stores. Bizz is set to release his solo album debut in the summer of 2009. For more information on Bizz, please visit http://www.myspace.com/bizzonline
###