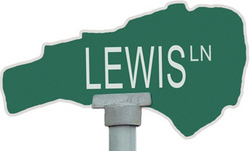 The first place I would look would be on the beach at the end of 52 Lewis Lane.
Nassau, Bahamas (PRWEB) March 15, 2009
Imagine lounging the day away on a virgin Caribbean oceanfront paradise sipping a tropical elixir and basking in the warm Bahamian breeze. While gazing carelessly across a beautiful tropical abyss a beach sign reading Ray Lewis Rapids belonging to NFL Superstar Ray Lewis is situated in front of his ocean front property located on 52 Lewis Lane.
The Paradise Is Mine development on the beautiful Bahamian island of Rum Cay, pronounced Rum Key, offers just that. Recognized by many as being one of the most picturesque locales on Rum Cay and in the Caribbean, Paradise Is Mine provides land for sale with a unique twist. When purchasing an oceanfront property the company names a street after the buyer complete with the number of his or her choice. Rum Cay, roughly 32 square miles in size, is slightly larger than Manhattan and is just 45 minutes from Miami. The Paradise Is Mine company has made available choice oceanfront land on Rum Cay to real estate investors wanting second homes. Paradise Is Mine has agreed as part of this process to name the streets and beaches after the first residents.
Those purchasing property on Rum Cay will not be the first however. This untouched paradise was first visited by Christopher Columbus in 1492 and was inhabited by Pirates from the 1700s to the 1800's. The romantic monikers Rum Cay and Paradise Is Mine perfectly describe this island which is known as the "Unspoiled Jewel of the Caribbean."
"Paradise Is Mine lets people get their own corner of paradise before anyone else," Ray Lewis said. "If an untouched Caribbean paradise is what you want then Rum Cay is ideal. It definitely is for me. There are no shopping malls, crowded streets or bazaars with tourists. This is a place to kick back and forget about the world on your very own beach and on your street with no one to bother you. It's definitely a place to get away and relax," Lewis went on to say.
Rum Cay's picturesque coconut groves, crescent shaped harbors and white sandy beaches provide a perfect environment to relax and recharge away from the hustle and bustle of the rest of the world.
"I am not sure if the real pirates who lived here ever had a chance to get a street named after themselves? But if you play for the Buccaneers or the Raiders it's now possible," Lewis joked. There are a number of celebrities and professional athletes who are making Rum Cay their home. Some are choosing to have streets named after themselves and some buyers have elected to remain completely anonymous. "You don't have to be a celebrity to have a street or a beach named in your honor. You just have to want to live in paradise," stated Ted Rover, the company's Director of Operations.
After a long NFL season, if somebody is looking for Ray Lewis, they may be able to find him fishing barefoot in his back yard at the end of the street named in his honor. He could have his feet in the sand on Ray Lewis Rapids fishing in one of the worlds most fertile fishing spots. Billy Davis, the Rum Cay local who brokered the deal to bring Lewis to the island, recently labeled him "Rum Cay Ray." When asked where you would you find Rum Cay Ray? Davis responded, "The first place I would look would be on the beach at the end of 52 Lewis Lane."
Paradise Is Mine
1-888-RUM-CAY-8
http://www.ParadiseIsMine.com
Ted Rover
###