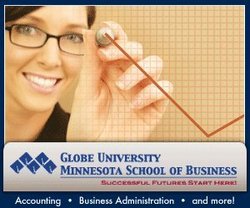 Woodbury, MN (PRWEB) March 15, 2009
Globe University / Minnesota School of Business is proud to announce a new scholarship for active duty service members. The scholarship provides money equal to the difference between the current rate and $250, the effect of which is to reduce the tuition rate for active duty military to $250 per credit.
To be eligible for the scholarship, you must meet with a school financial aid administrator and provide proof of active duty status. The Active Duty Military Scholarship extends to students attending any campus or online division of Globe University or Minnesota School of Business. It applies to all degree programs except nursing and graduate programs.
Students accepting this scholarship can also apply for other military educational benefits to reduce the cost tuition further. However, recipients of the Active Duty Military Scholarship are not eligible for the school's Military Advantage Scholarship.
Other conditions of the scholarship are as follows:
You must be an active duty service member of the Army, Navy, Air Force, Marines, Coast Guard, or Drilling National Guard/Reserve.
You cannot apply the scholarship retroactively to past tuition charges.
The scholarship does not extend to veterans or dependents and spouses of military service members, but they are eligible for the Military Advantage Scholarship.
The scholarship does not cover the costs of books or any fees associated with the program or classes.
Please contact an admissions representative at Globe University / Minnesota School of Business with any questions. In addition, Globe University/Minnesota School of Business employs two retired service members dedicated entirely to active duty military, veterans, and their families:
Mike Hughes, 1SG U.S. Army (Retired), 21 years active duty
Director of Military Services
Phone: 651-332-8068
Toll-Free: 1-877-325-8080
Mike Blumberg, 1SG U.S. Army (Retired), 21 years active duty
Military Liaison
Phone: 651-332-8029
Toll-Free: 1-877-325-8080
###