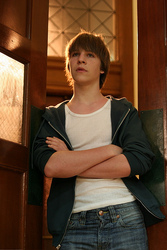 Thomasson admits to receiving hundreds of calls and emails regarding the status of 11:11 and not knowing what to tell them.
Huntington Beach, CA (PRWEB) March 17, 2009
LifeLine Entertainment is proud to announce that they are back in production on a feature film they started seven years ago. "11:11" has been a highly anticipated independent film since its original announcement in 2004. Writer/Director, Rocky Costanzo's vision of a two-part coming-of-age drama will finally become a reality this month, as the cameras are currently rolling once again in its original setting of Huntington Beach, California. "It's been a crazy journey," says Costanzo about the film's long process. "We weren't sure if the film was ever going to see the light of day."
From the beginning, 11:11 was supposed to be shot in two segments. Costanzo wanted two settings; summer and winter. The first act of the film was completed as planned in the summer of 2004. The second and third acts were slated for the winter of 2005. It never happened. The film suffered a financial blow when investors backed out a few weeks before filming the second half. 11:11 was immediately put on hold while things got sorted out. The producers expected this to be a minor setback, however, weeks turned into months and months turned into years. During this period, the filmmakers continued making other films, including "Hallowed" (2005), "Almost Beautiful (2007), and "Amhurst" (2008), however nothing was happening with 11:11. Executive Producer, Roy Thomasson said; "We got so busy working on other films that we sort of put it on the back burner." Thomasson admits to receiving hundreds of calls and emails regarding the status of 11:11 and not knowing what to tell them. "We've never had a film with this much interest. It's amazing."
Finally, sometime in December of 2008, Costanzo called a meeting with the producers to discuss 11:11. "It's time to finish this thing." Costanzo remarked. To make things fresh and exciting, Costanzo brought to the table a new outline for the film, which could be made with less money, along with a re-imagined storyline that would bring back the original actors from the 2004 shoot, who were then 11 years-old. The new storyline would catch up with them as older teenagers. In addition, there would be an opportunity to attach new talent. The setting of the film would remain in Costanzo's home town of Huntington Beach, which is also where their production company, LifeLine Entertainment, is located. The original actors were interested, the script was underway and 11:11 was back in-development.
On October 1, 2008, an announcement was made that 11:11 was back in preproduction. The official website was re-launched and included a new teaser trailer. Storyboarding began and casting took place at LifeLine's studio in Huntington Beach. The five original actors returning are Myles Jeffrey (The Ant Bully, Face/Off, Hoodlum & Son, various network televesion appearances), Darian Weiss (Miracle at Sage Creek, Better Luck Tomorrow, various network television appearances) Rachel Thorp (Thank You for Smoking, Popstar, Keith), Theresa San-Nicholas (From Justin to Kelly: With Love), and Katelyn Ann Clark (The Conrad Boys).
The new supporting cast includes Jose Yenque (Traffic, Price of Glory, The Last Adam), Cameron Bright (Birth, Godsend, Running Scared, Thank You for Smoking), and newcomers, Austin Thomas, Romina Hyland, Alec Hogan and Benjamin Weiss complete the roster of young talent. Actor, Richard Meese, Costanzo's friend from two of his past films (Return to Innocence, Hallowed) will also make an appearance. The producers are working with a new production crew, with the exception of music composer, Rob Gokee, who scored Costanzo's previous film, "Amhurst."
Energized and rejuvenated, the filmmakers are out to make their best film yet. Costanzo's new vision of 11:11 is an innovative take on the coming-of-age genre and is expected to be full of surprises. The three-act screenplay consists of two completely different storylines that come together in the end. The screenplay is constantly being revised so as to keep it from being revealed. Filming began on February 21, 2009 and as a special thanks to those patiently waiting to see the end result, the producers have set up an interactive social network through "Twitter," which offers play-by-play updates from the set and allows Q&A opportunities with the filmmakers and stars of the film. There is also an active running blog posted which updates weekly with exclusive photos and small clips from the set. The first set of official production stills are attached to this release. Visit the official website at http://www.1111movie.com for more information. 11:11 is on schedule for a 2010 release.
ABOUT LIFELINE ENTERTAINMENT
LifeLine Entertainment operates as an independent film production/distribution company. Since its inception in 2000, the company has produced five feature-length films, two of which were distributed through its own home video label. Located in the city of Huntington Beach, California, the mission of LifeLine Entertainment is to create and develop cutting edge films and present them in true independent style. Titles, which target niche audiences who appreciate smaller-budget art house films, include Return to Innocence (film noir/court drama), Hallowed (horror), Almost Beautiful (documentary), Amhurst (thriller), and most current, 11:11 (coming-of-age/crime drama)
###