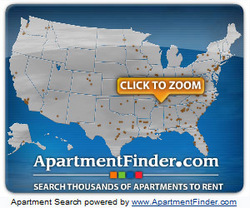 There are plenty of complicated apartment search sites online. But a simple, non-intrusive search widget is what I'm looking for
Charleston, SC (PRWEB) March 15, 2009
Atlanta, GA, March 16, 2009 -- The number of people engaged in an apartment search is growing at a rapid pace. The current recession has forced people out of their homes. Some people are waiting to buy a home until the economy strengthens. Apartment Finder recognizes this trend and is now offering a tool for apartment bloggers and apartment Web site owners that features thousands of listings on their sites.
The Apartment Finder is one of the largest resources on the Web for apartment listings and apartment information. It has developed a new tool that allows searches for apartment listings in hundreds of neighborhoods across North America.
The widget works perfectly for apartment bloggers and apartment enthusiasts. Bloggers can easily download the widget and use it on their site. It works as a Wordpress apartment search widget, as well as on other popular blog platforms.
It doesn't matter if you search apartments as a hobby or if you are a professional trying to provide your customers with more listings, this new apartment search widget is ready to download and easily install. You can visit their site, put the widget on your blog, and get started immediately.
Apartment bloggers can take advantage of The Apartment Finder's library of apartment listings. Bloggers can design the widget to fit their Web sites. The widget is small and does not disrupt the style of a site. It allows users to search thousands of different apartments, in neighborhoods from California to Boston, and provides continuous apartment listings and updates.
"There are plenty of complicated apartment search sites online. But a simple, non-intrusive search widget is what I'm looking for," said Paul Blumenthal, an apartment blogger.
The Apartment Finder has a respected reputation as a valuable source for apartment listings across the country. It features apartments in thousands of neighborhoods, and provides area maps and photographs. It has an intuitive and effective Web site and is now offering to apartment bloggers and apartment Web site owners a free application that will benefit customers everywhere.
If you're a blogger or Web site owner that thrives on culture and lifestyle content -- it doesn't matter if you use Wordpress, Blogger or Typepad -- the new Apartment Finder widget will improve a user's search experience on your site.
###