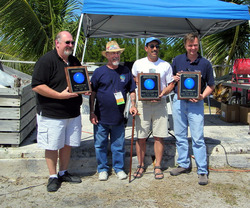 Laguna Hills, CA (PRWEB) March 15, 2009
The AstronomyOutreach network today announced the recipients of the 6th Astronomy Annual Outreach and Leadership Awards, given for extraordinary efforts to teach and promote astronomy. These AstroOscars were officially presented at the 25th "Winter Star Party" in the Florida Keys on Friday, February 28, 2009 and are presented on an annual basis at the "Winter Star Party:"
Dr. Donald C. Parker - a renowned planetary astronomer, Parker's astronomical images and research, especially of Mars, have appeared in countless magazines and publications throughout his many years as a planetary astronomer and observer. Parker, along with the late Chic Capen (Lowell Observatory) and Jeff Beish, conducted Martian polar cap, climatological, and dust storm studies over a fifty year period. When various storms occurred in Jupiter and Saturn atmospheres, the Space Telescope Science Institute (Hubble Space Telescope) contacted Parker for his imaging and data. Parker has led a revolution in planetary imaging techniques, both among amateur and professional astronomers. He serves on the Board of Directors of the Association of Lunar and Planetary Observers and has served as the Association Executive Director.
Dr. David and Wendee Levy - Dr. Levy is well-known and recognized for his comet discoveries, especially Comet Shoemaker-Levy 9 which impacted Jupiter in July 1994. Dr. Levy has authored numerous books about astronomy and astronomical observing, serves as science writer for Parade Magazine and writes a monthly columnist for both Sky & Telescope and Astronomy magazines. What is not known about the Levy's is their dedication to astronomy education and outreach. Their non-profit National Sharing the Skies Foundation has promoted special camps and opportunities for students, not only in the United States but abroad. Both David and Wendee are internationally sought-after speakers; David as he shares his experiences as one of the most-successful comet hunters and observers in history and Wendee as an accomplished educator.
Dr. Michael D. Reynolds - Dr. Reynolds is an internationally-recognized leader in astronomy and science education, especially known for his innovative teaching techniques, having been previously recognized as the 1986 Florida Teacher of the Year and a NASA Teacher-in-Space National Finalist (1985), among others. He is the Executive Director Emeritus of the Chabot Space & Science Center (Oakland, California) where he led the effort to build and open a new Center to replace the earthquake-unsafe 1915 facility. Chabot recognized him by naming one of the observatories the Reynolds Observatory. He is currently serving as Dean of Liberal Arts and Science at Florida Community College (Jacksonville). Reynolds has written several books and articles, leads total solar eclipse and meteoritics expeditions worldwide, and is a highly sought-after speaker.
Rockland Astronomy Club - A well-established society with a vision for sharing astronomy with the general public, the Rockland Astronomy Club (Suffern, New York) has been a national leader in public astronomy and space outreach. The Rockland Astronomy Club's Northeast Astronomy Forum, or NEAF, has become the nation's premier Astronomy Expo event, bringing together world-renown speakers, astronomy products and manufacturers, and over 3,000 attendees from all over the world at SUNY Rockland. In the last few years NEAF has been expanded to include an astronomical imager's conference as well as a solar astronomer's conference.
Past Recipients include Robert Nemiroff and Jerry Bonnell (NASA Astronomy Picture of the Day), Kay Ferrari (NASA Jet Propulsion Laboratory in Pasadena, California), Jack Horkheimer (PBS, Star Hustler), Kitt Peak Observatory Public Outreach Office (University of Arizona), Astronomy and Sky & Telescope, the Astronomical Society of the Pacific, and the Southern Cross Astronomical Society (Miami, Florida).
The 2009 Outreach Awards Selection Committee was chaired by Scott Roberts (AstronomyOutreach network founder and President of Explore Scientific) and also included Tippy D'Auria (Founder of the Winter Star Party and renown lecturer) and Dr. Stephen J. Edberg (Director of the Riverside Telescope Makers Conference, author, and JPL scientist). The awards are generously sponsored by Oceanside Photo and Telescope (Oceanside, California), and telescope and binocular maker, Explore Scientific - BRESSER.
The AstronomyOutreach network was created ten years ago as a channel for interacting with the community and to practice outreach. The website offers the visitor information and contacts in astronomy, links to find lecturers, and articles spotlighting those who do outreach. In addition AstronomyOutreach supports a user group for those involved in education and public outreach in astronomy to support scientific literacy.
While there are many astronomy and space exploration sites on the web, there seemed to be few that spotlight the people and organizations who perform outreach in astronomy and space exploration as well as extraordinary leadership in astronomy education. There are also so many of those engaged in this endeavor that did not have a platform or a home to make them known to the general public. This was the primary reason to initiate the AstronomyOutreach network.
###