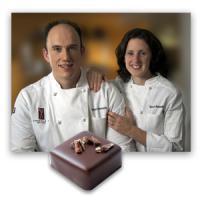 We produce our chocolates from the finest cacao in the world
Newton, MA (PRWEB) March 16, 2009
L'Chokola''j® (pronounced "choko-lah") located in Moriches, New York (http://www.chocolate.com/brands/chokolaj ) is the culmination of the dreams and efforts of co-founders Daniel & Susan Kennedy. Proponents of the New American food movement, the Kennedy's use local ingredients to inspire them, turning out delectable, hand crafted chocolates like Local Blueberry Port and Chamomile Honey Caramels.
"We produce our chocolates from the finest cacao in the world," says Dan Kennedy, "representing single origins, organic producers, and simply the best covertures. You will discover "local-to-us" produced wines and herbs, fresh all natural cream and dairy in our hand made confections. And, we believe are making a difference by supporting organic producers, sustainable agriculture and local businesses."
The Kennedy's both hold Masters Degrees from the prestigious school of Culinary and Pastry Arts; Johnson & Wales University.
Chokola'j has been a Chocolate.com vendor since March 19, 2007. Chocolate.com offers 22 products from Chokola'j, including their Fruit and Nib Bark, a hand crafted confection of plump cranberries, organic cacao nibs and orange confit, folded into white chocolate creating a delicate balance of tart, sweet, smooth and crunchy.
Editors Please Note: Photos and product samples available upon request.
About Chocolate.com: Chocolate.com (http://www.chocolate.com) is the world's largest chocolate marketplace, featuring thousands of gourmet and specialty chocolate items and gifts to choose from including Chocolate.com's own brand of fully customizable, premium chocolate pops, trading cards, business cards and medallions, all printed with edible photos of your kids, loved ones, corporate logo or any other image or slogan.
###